Half-term is approaching! So, we've put together 10 great tips for fun activities that you can do with the kids at home or in your local area. You don't have to travel far to make sure your half-term holiday is fun and memorable! See our great half-term holiday guide below. It contains everything you'll need for wonderful (and cheap!) fun with the family! 🤗
1. Make your own puzzles and solve them together!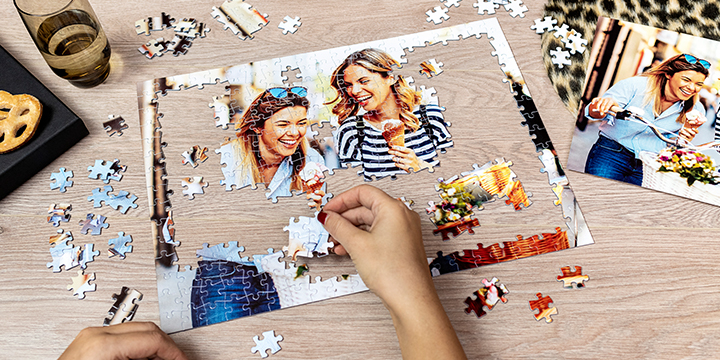 Puzzles have never been more popular, and it's even more fun to solve your own personalised puzzles! At Smartphoto, it's easy to create jigsaw puzzles from your own photos. Choose between puzzles for children with 30 thick MDF pieces or more challenging puzzles with 24 to 500 pieces! If you love arts and crafts and have small children, you should also take a look at this fun and simple wooden peg puzzle project.
2. Build a fort, no matter what the weather!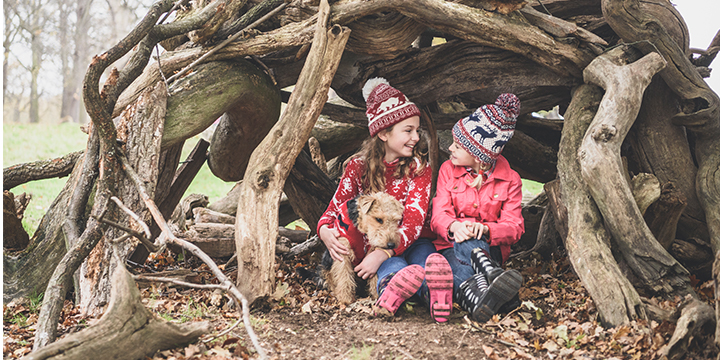 An outdoor activity that's always fun. It can also be completely adapted to the weather. Rainy and cold? Build a fort indoors from lovely warm blankets and pillows! Sunny? Go to the woods or park and build a cool nature fort from sticks and branches. Remember to take coffee! If you want more wonderful tips for a great break – read on here.
3. Use the holidays to spruce up the children's school work corner!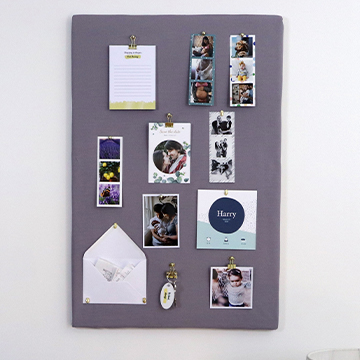 The half-term holiday provides a much-needed break from routine. Why not take this opportunity to revamp the kid's work corner? For example, how about making your own DIY noticeboard? Read more about how to make and use your own noticeboard here. There are loads of other ways to make school and homework a little more fun. Check out this page showing you how!
4. Create decorations and other beautiful things from the children's drawings
If you've got children of preschool and school age, there's certain to be no shortage of their drawings around the house. Use the holiday to do something fun together with all that art. Watch our DIY video below for some ideas. If you fancy a more step-by-step guide, take a look at this blog.
5. The big half-term challenge!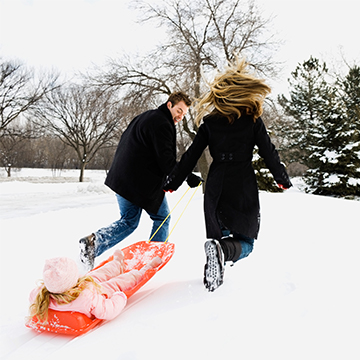 Half-term can also be an opportunity to get active and healthy after Christmas and a lot of time indoors. Go out and get energetic as a family! It can be anything from sledging (if you're lucky enough to get some snow!), an obstacle course or a scavenger hunt are just a few ideas. There's so much fun to be had at half-term!
6. Make your own playdough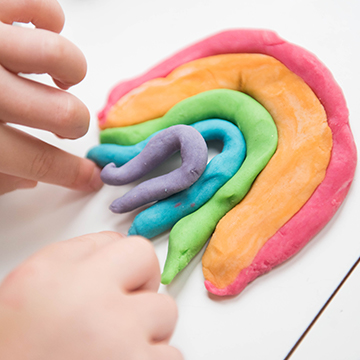 Kids love to create with playdough, but did you know that it's super easy (and cheap) to make your own? Here's our favourite recipe from Ekotipset for a durable and non-toxic playdough that's easy to make at home. The dough lasts for months if you store it in an airtight jar. You could even make different coloured playdough and get nice jars for them with labels – sold here in sets of 12.
Recipe for non-toxic playdough from @ekotipset
You need:
• Flour, 225 ml
• Salt, 110 ml
• Cooking Oil (such as vegetable oil or olive oil), 0.5 tbsp
• Lemon-/lime juice, 1 tbsp
• Boiling hot water, 225 ml
• Colorant, such as one or two drops of food colouring (I coloured it with turmeric, blue spirulina and red caramel colour) 🌈
DO THIS:
1. Mix all the dry ingredients in a saucepan.
2. Add the oil, lemon juice, colouring and hot water, and stir.
3. Place the saucepan on the stove over a medium heat and stir until the dough releases from the edges of the saucepan.
4. Let it cool and knead well.
5. Done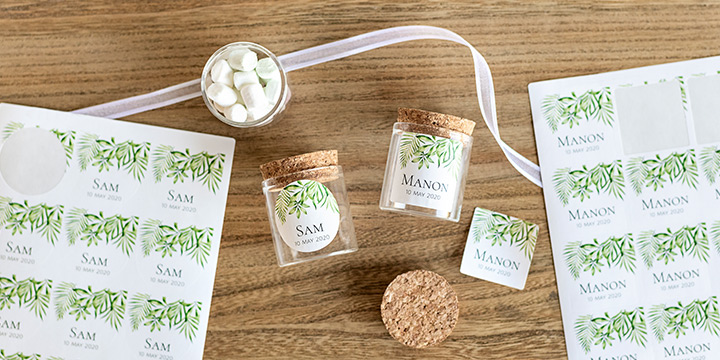 Here's an extra tip if you want to try something new: A new kind of goo that's like a cross between slime and playdough. You have to try Ekotipset's magic gunge – Oobleck!
YOU NEED:
• Corn starch, 400 ml
• Water, 200 ml
• Colourant. I used blue eco spirulina but a few drops of caramel colour go well! 🦋
DO THIS:
Mix water with cornstarch and colouring in a bowl.
Done!
7. Arrange a game night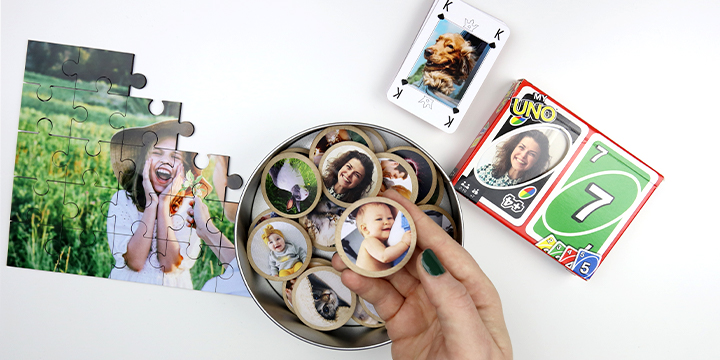 Playing games is so much fun and they can be tailored to suit kids of any age. Why not dedicate one evening of half-term to a proper game night? How about MyUNO®, Happy Families, or Four in a Row. Maybe even a memory game with your own pictures! It's so easy to do online, or as an arts and crafts project using labels and buttons – read the step-by-step guide here.
8. Play with bubbles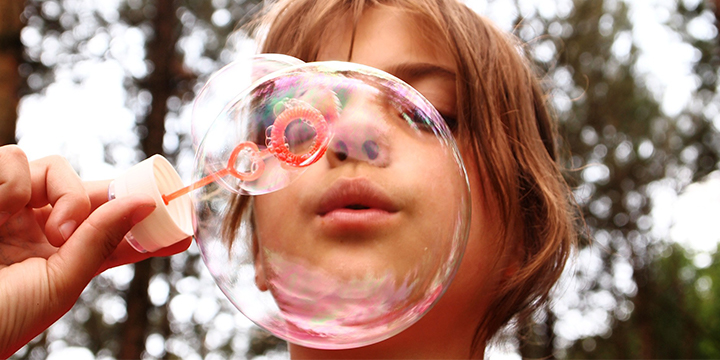 Blowing bubbles is great fun for young and old alike! Order yours in personalised packaging here. They come in packs of 12.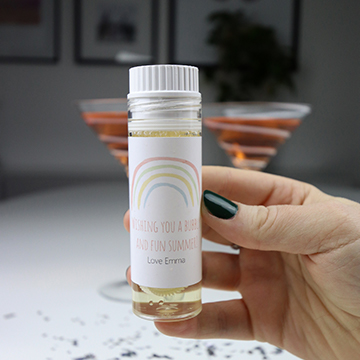 But, when they're finished, you can easily make your own bubble mixture from 50 ml of washing up liquid, 1 teaspoon of sugar or icing sugar, and 50 ml of glycerol (available at chemists). Mix with 20 to 50 ml of water and bubble away to your heart's content!
9. Prep for the next party 🎈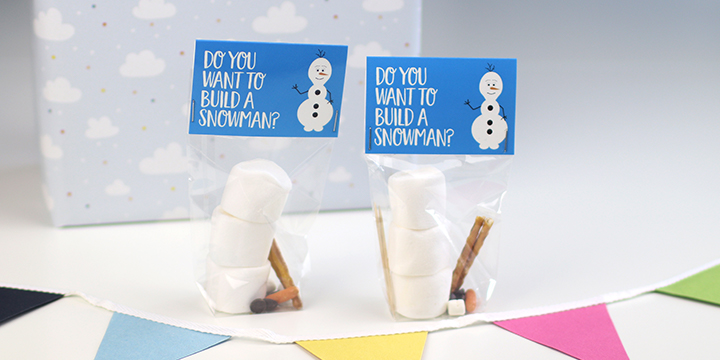 Is there a family birthday or other event coming up? Even if you won't be able to invite friends over, you can still make sure the birthday girl or boy has a great time! Take advantage of half-term to sort out the details and decorations for the party! For example, these adorable sweetie bags! Who doesn't love building their own little snowman from marshmallows. Perfect if you want to drop a little doorstep gift to each child before a virtual party.
If you're in the party mood, check out this page for loads of celebration tips!
10. Go on a jungle safari (teddy animal hunt) at home!
Last but not least, an old favourite! Make half-term a holiday adventure your budding Attenboroughs will never forget with a teddy safari! It's a kind of treasure hunt where the cuddly critters are the ones who are hiding! If you want to make it extra exciting, you can make up some interesting clues or maybe hide the teddies by category. For example, "animals that live on the savannah are hidden somewhere green." That way, you can make it educational too!  As a prize, the children could get a new cuddly friend to keep
Still looking for inspiration? Check out these posts!
Five tips for fun activities when you're at home with the kids!
Fun activities at home with the kids