Your child's Communion is a special event and a wonderful family day to spend together. Are you planning to organize that long-awaited First Holy Communion this year? You can't do that without the necessary preparations. But don't worry! To help you, we've prepared a communion (or spring) celebration checklist that will help you prepare stress-free. This way you can be sure that you don't forget anything when organizing your beautiful communion party! 🙂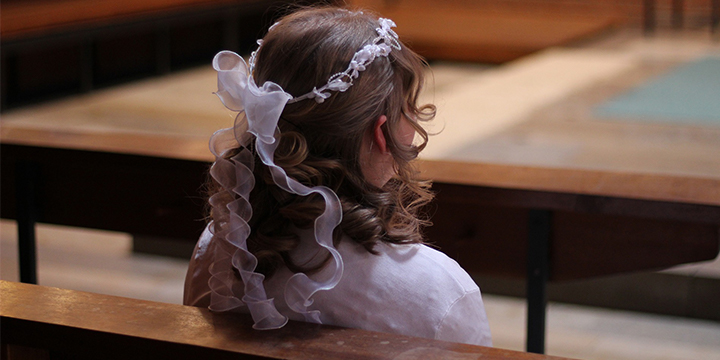 There are a number of things that you should definitely consider before, during, and after you party. But don't stress! We've listed them all for you here. Just tick the list as you go and you'll have an unforgettable communion or spring festival with no worries! ☺
3-4 months before the party
1. Make a Communion checklist
No one can avoid all the obstacles on the Communion party path without a little helping hand, no matter how good a party planner they are! So, it's a great idea to draw up a personal checklist for your communion or spring celebration so that you really can't forget anything you need to do for the big day.
2. Set a date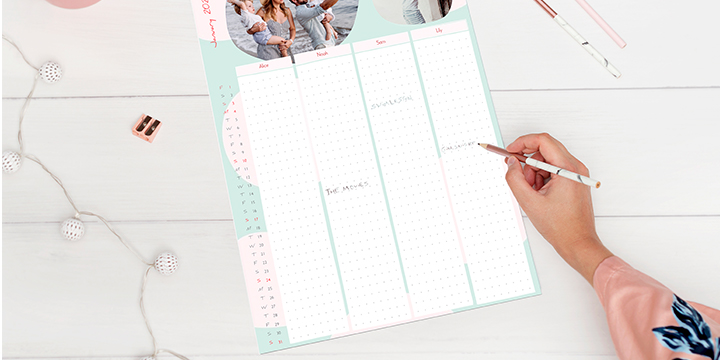 What's the perfect date for your Communion party? It's the date that suits you best as an organizer! Do you think the day of the Fist Holy Communion itself will be a bit too busy for the communion party as well? There's nothing wrong with holding the celebration a week, two weeks, or even a month after the communion. Have some of your friends already planned communion parties on your chosen day? Then choose a different date. Your friends can only be in one place at one time, and it's first come, first served! A family planner will be handy for keeping the plan according to schedule.
3. Choose a location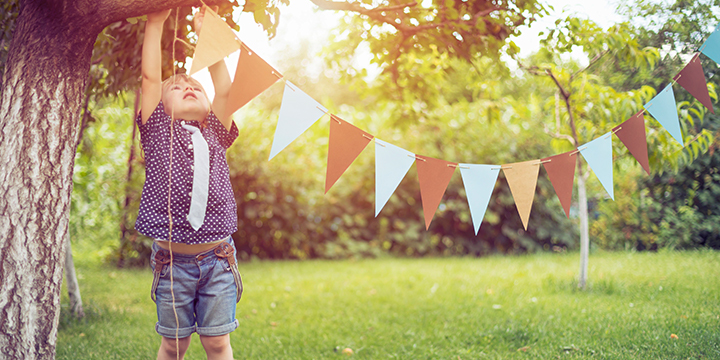 Here's the big question: Do you hold the Communion party at your home or rent out a function room? Both have advantages and – let's not immediately call them disadvantages – points to take into account. Renting a party room, for example, is usually a bit more expensive, but it takes some pressure off the organizer. Organizing your communion party at home is extra fun, but it does require some extra preparations. You must also have enough space at home to receive all your guests. Do you have a large garden available? Then your party will have an extra dimension if you turn it into a communion garden party!

COVID safety: Make sure you check the current coronavirus regulations regarding the number of people you can entertain in your chosen venue or garden!
4. Set a budget
Perhaps the most important point of the communion checklist! The cost of a communion party can spiral out of control before you get a hand on it. Suddenly, the room-hire, the photographer, the printing costs for your communion cards, the caterer, and the bouncy castle man have to be paid. So, it's really important to set a realistic budget in advance and stick to it. Take unforeseen costs into account and think carefully about what you definitely need and what you can do without.
5. Write the guest-list
The key question: Who is invited to the communion party? That often depends on what kind of party you want to organize! A very elaborate communion party, or a more intimate one?
Go through all the friends and relatives of the communicant and put together a guest-list for the communion party. It's one of the biggest jobs on the checklist, but only once you've done it can you start making the really big decisions for the party.
COVID safety: Be sure to check how many people are allowed at your party. You really don't want to be recalling invitations once they're sent!
6. Choose a theme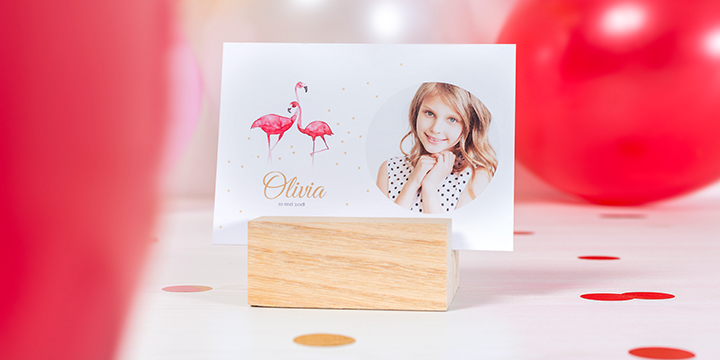 Themed communion parties are trendier than ever. Brainstorm together with your communicant to decide a theme and apply it throughout your communion party. Visit Smartphoto Communion page for more inspiration. You could take inspiration from, for example, your child's favourite animal or hobby. Nice colour tones can also form the theme for your communion party! The possibilities are endless!
7. Contact the Godparents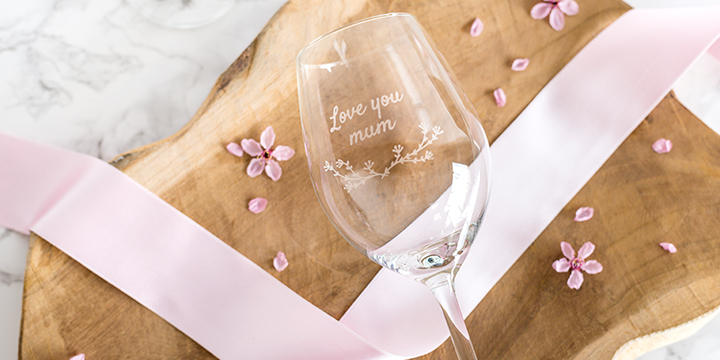 Don't forget to inform the godmother and godfather about the First Holy Communion in good time. Otherwise, you risk that your son or daughter will have to go to the altar alone! It's always nice to give the godmother and the godfather some extra attention at the party, maybe with personalized pin-badges or wine glasses, for example. That way they can show off the little communicant and everyone at the communion party will immediately know who the godmother and/or godfather is!
8. Photographer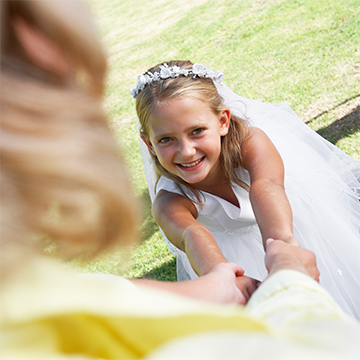 Don't forget to contact a photographer if you want professional photos taken of the communion. Arrange a photographer in time so you'll have stunning photos to remember the day and to use for thank-you cards and invitations (if you're having the party after the day itself).

Remember to book a photographer to take pictures during the communion party if you've chosen to have it on a later day.
You can of course take the photos yourself, but with a photographer you have one fewer thing to worry about and you can still enjoy fantastic memories after the party.
9. Party menu
Good food and drink should be highlighted on your communion checklist. If you choose to use a caterer, you don't have to worry too much about the food and you can focus on the rest of the party. Or would you rather be at the stove yourself? Then choose a menu that you can prepare easily in advance so you can enjoy yourself during the party. Make extensive shopping lists of the things that you can buy a week before the party and the fresh produce that you can only get on the day itself. Be sure to take into account people with special dietary requirements (allergies, vegans, and vegetarians). Provide something for everyone! And way not create a menu card to place on the tables?
2-3 months before the communion party
10. Communion photos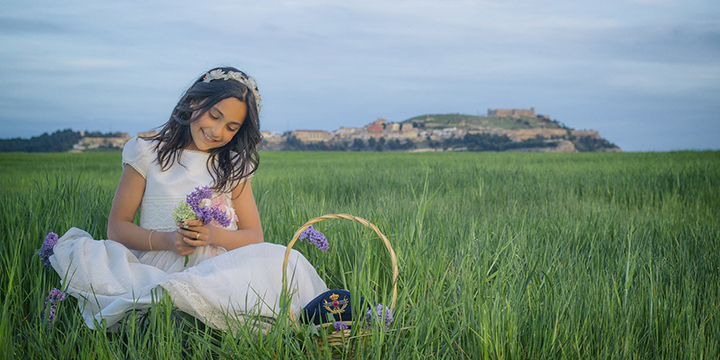 If there's one communion tradition that will go on forever, it's the giving of communion cards. They're a lasting memory of a wonderful day that you can easily give it to all your guests after the party.For the communion cards you will of course need some nice photos of the communicant in their communion outfit. Would you like a professional photographer to take the photos? Then book a photographer in time and brainstorm together about a nice location. Do you have some photo skills yourself? Then you could take the photos yourself and save a little money!
11. A new hair style
Photographer booked? Then maybe a quick test run at the hairdresser to try out a beautiful communion hairstyle. That way, you've not only tried out your communion hairstyle, you'll know that you're going to be at your best in the photos. A win-win situation! Is your communicant happy with their new haircut? Then make an appointment on the morning of the communion party itself! Or would you rather play hairdresser yourself? You'll find a lot of hairstyle inspiration on Pinterest and YouTube. Start practicing now!
12. Team communion!
Are you having the communion party at home? Then put together an action team! Perhaps your kids' regular babysitter would like to help animate the kids. Maybe, if you ask really really nicely, your best friend might be willing to help you with the snacks and serve the drinks. Go Team Communion!
13. Original invitations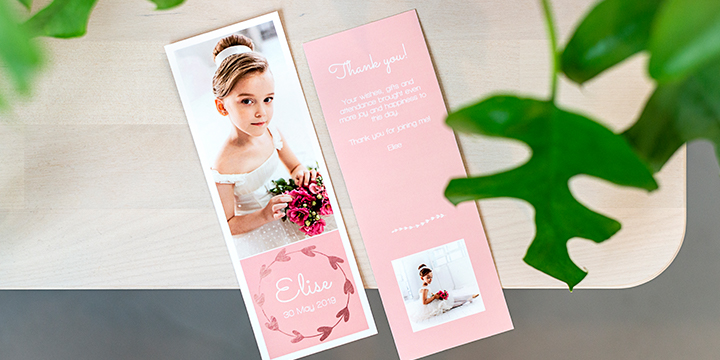 The next step on the road to your communion party is to put all the information together in some special invitations! A wide choice of fun designs can be found with our communion and spring party invitations. If necessary, order a sample in advance so that the final result will be exactly what you want. For the invitations, remember to specify the name of the communicant, date, time, place, RSVP, contact details, theme (if any), and directions. You could even order your communion cards at the same time.
Tip: Create invitations that fit the theme of your party. That way you set the right tone from the get-go!
COVID safety: If the party cannot take place on the planned date due to the coronavirus, you can simply reorder new invitations with the amended date for free! An option is also to simply order your invitations with some empty space for the date to fill in manually later, once you know for sure when the party can take place.
14. Entertainment for young and old!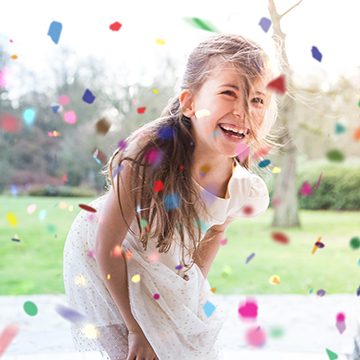 Children just want to play and romp about, which is why it is a good idea to come up with some kid-friendly activities, such as a bouncy castle, a photo booth, piñatas … or get inspired online, there are plenty ideas to be found on pinterest.
1-2 months in advance
15. Keep checking the list
Always check "The List" to make sure you're still on schedule. In the months before the communion, it will be a valuable guideline. Have a little time during lunch break at work? Check "The List". Waiting for your train: Check "The List".
16. Send the invitations
Send your invitations at least a month before the party takes place. Make sure your guests have lots of time to make their own plans!
Keep a list of guests that have confirmed so you'll know for sure who'll be there.
17. Menus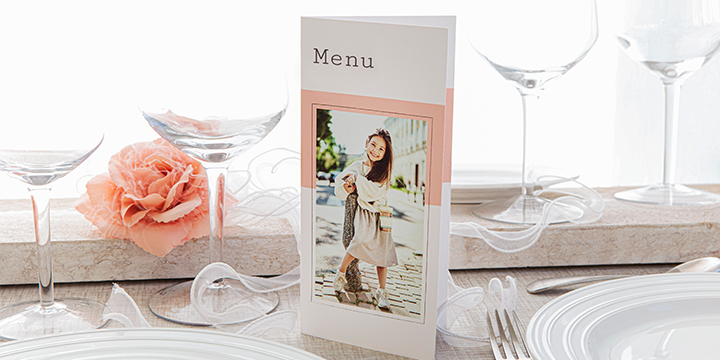 Now that you know how many people will be there, you can order the menus for the party. What's more, they can be an extra element of your decorations. Try to keep your menus in the same style as your invitations to match the theme. You will find a massive range of possible menus for communion and spring parties on our website.
18. Communion thank-you gifts for your guests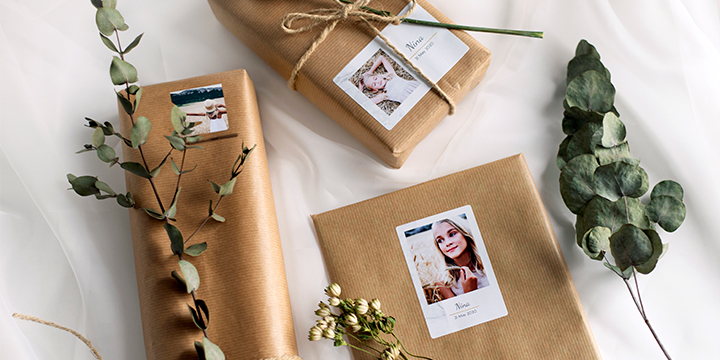 In addition to communion cards, you can also give communion gifts for your guests to take home. They always bring presents, so it will make them very happy to receive a small gift in return. A few cool gift boxes or bags filled with tasty sweets or some other nice surprises always go down well! This is a great way to make sure you have an unforgettable communion party, because old, young, big, or small, we all secretly like gifts very much!
19. Souvenirs for the godparents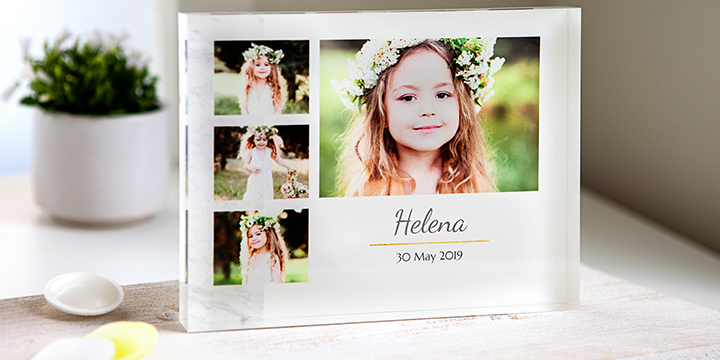 When organizing a communion, souvenirs for the godparents shouldn't be forgotten. For example, with Smartphoto you can create a beautiful acrylic photo block, have mugs printed, or order a framed photo canvas.
20. Provide enough seating and crockery
Have you decided to organize the communion party at home? If so, it's important to provide enough chairs, tables, crockery, and possibly a tent to avoid nasty surprises the day itself. Not many people have fifty chairs, plates, or glasses at home. If you're hiring a caterer to take care of the food, they usually provide plates and cutlery. You can borrow chairs and tables from friends and family or, of course, you could also rent!
COVID safety: Before sorting out chairs and crockery, it's best to take a look at the current regulations to make sure you know how many people are allowed at your party.
21. Party decorations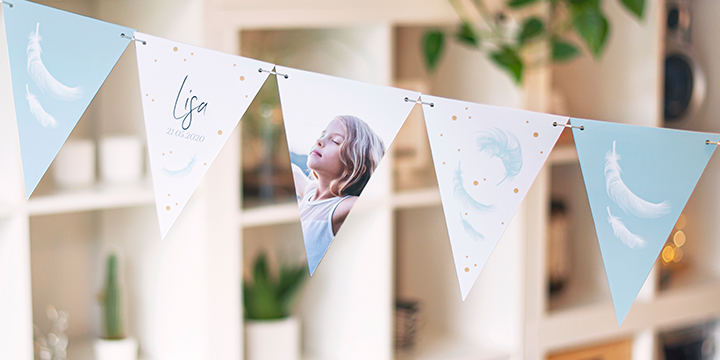 You don't have to stop at decorating the party table. For a really spectacular communion party, the entire space can be decorated! Have you chosen a specific theme for your communion party? Then continue that theme for all the decorations! Moreover, you don't have to limit your decorations to the party space inside. Charm your guests as soon as they arrive at the party with a cool banner on the facade or a welcome poster on the door.
22. Table decorations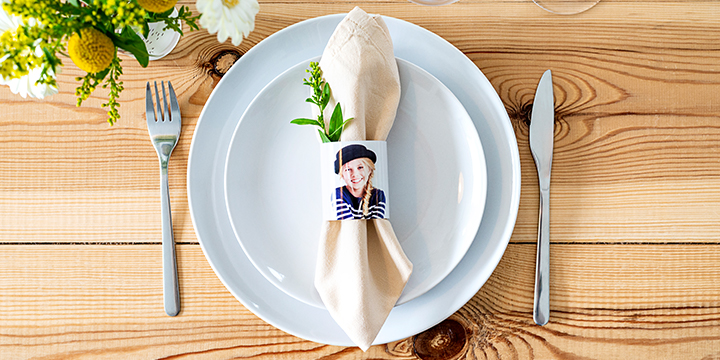 Communion menu: check! Now for the table decorations. You'll want to present your cooking skills on a spectacular party table. Thankfully, decorating options for a completely WOW party are almost endless! You can go for some basic options such as matching napkins and table runners, but you can also add some extras to your tables, like personalised placemats or napkin rings.
23. Hairdresser
Remember to book the hairdresser at least a month in advance to make sure everyone gets their spot!
24. Check the guests
Has everyone RSVPed yet? It might be time to take action! Give your guests a call to check whether they will be there or not. Is there a little hesitation in their voice? Then throw everything – like your dessert buffet – into the fight to win them over! After all, it is an important party for your son or daughter. Once you know who is coming to the communion party, you can give the caterer the exact numbers
1 week in advance
25. Shopping list
Make a shopping list for the perishables a week in advance. Preparation for a communion party is easiest if you buy things such as ingredients for cooking, decorations, crockery, and other necessities, the week before.
1-2 days in advance
26. Final preparations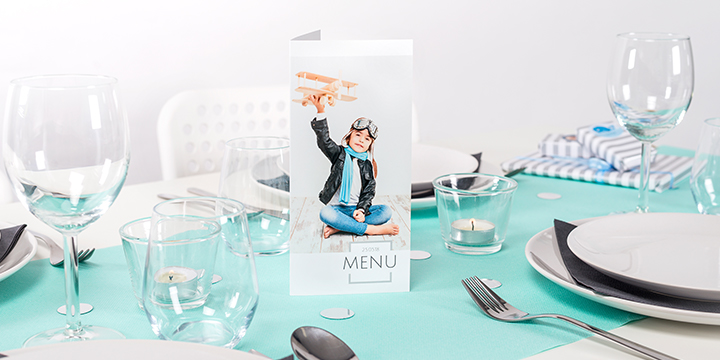 Organizing a communion means making sure everything is ready and clean the day before the party. So, ensure a clean house and garden where everything is neatly set up and that's completely ready to receive guests.
In addition, when preparing a communion, it's smart to decorate as much as possible one or a few days in advance and to prepare any snacks. This way you do as little as possible on the day itself, which saves a lot of stress. Prepare the interior and possibly arrange a nice gift table where all the communion thank-you gifts can be presented. Finally, if you want to take photos yourself, have your camera ready, and be sure to charge the batteries!
The day of the party
27. One final check
The day is finally here! Before the guests arrive, make a final check that everything is in order with regard to food, drinks, and seating. Sort out the final decorations according to the party theme and wait anxiously for the guests to arrive
28. Make memories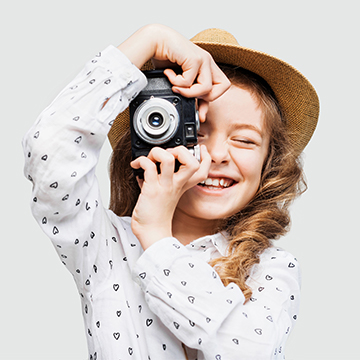 It's always nice to have lots of photos to remember your party. However, as the party organizer you don't always have the time to act as a photographer yourself. So, if you haven't hired a pro, ask one of your family members or best friends if they want to be responsible for the photos at the communion party.
If you don't want to burden one person with that responsibility, you can invite everyone at the party to take photos with their smartphones and share them on Instagram with a hashtag you've chosen, for example: #alisonscommunionparty. Then you can easily view all the photos later without having to ask everyone.
29. Thanks
Finally, prepare the thank-yous and mementos to give after the party. Put them in a nice place so that they can contribute to the decoration of the party.
30. Enjoy!
Try to enjoy yourself during the communion feast. After all the blood, sweat, and tears of the past months, you can now let yourself go. If something still goes wrong on the day itself, stay calm and just roll with it. It may seem like a drama to you, but your guests probably won't even notice! Remember, nobody's perfect! 🙂
After the party
31. The clean-up team
Once the communion party is over, there's a lot of cleaning up to do. First, recover from the party for a while, sleep on it if necessary, and then start cleaning up the communion party with fresh courage! PS: Look at your family members and your best friends with your sweetest puppy eyes and who knows, they might even help out. 😉
32. A feather in your party cap!
You made it to number 33 on the checklist! Congrats! The next step? Put a big feather in that party hat of yours! After going through all these steps, you will undoubtedly have given your son or daughter the communion of their life!After organizing the communion, give yourself some time to relax and send your thank-you cards.
33. Collect together the best memories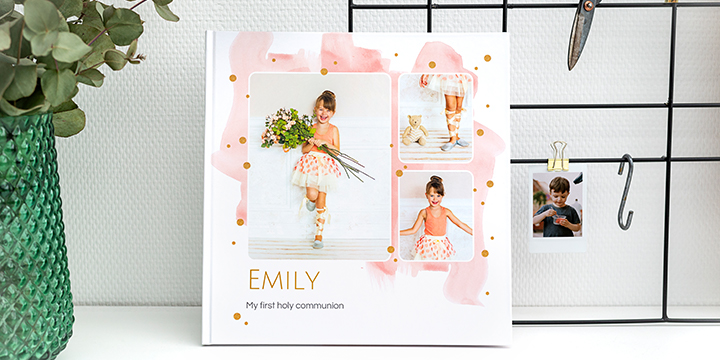 Relive the wonderful memories with a beautiful photobook filled with the most wonderful moments of the communion.
Above all, enjoy!
Preparing a communion is not an easy job, but if everything goes smoothly, it can be incredible fun. Hopefully, this communion checklist will help you to make your communion party completely unforgettable for you, your guests, and of course your communicant!Are you organizing a communion or spring party this year? Or do you have some great tips we haven't covered? Let us know in the comments or share them through our Facebook, Instagram with the hashtag #mysmartphoto! We'd love to see them!
Further reading: