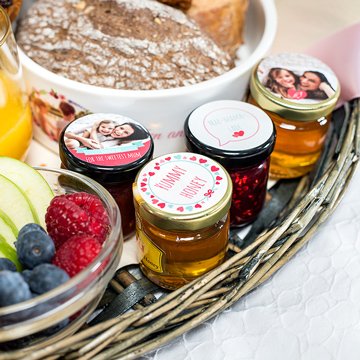 Of the 365 days in a year, there's just one that's officially known as Mother's Day. The day devoted to celebrating mothers. Just one fleeting day! So it's time to think about the right way to give your mum, or the mother of your children, a big surprise. And what better way to start off this special day than with a personalised Mother's Day breakfast in bed!
Yes, I hear you thinking, that's the same old thing we do every year. But what if you took it to the next level this time, and made it something truly personal? A breakfast basket filled with personalised gifts that the children or their father have created themselves. A cookie tin with a drawing on it, cereal with funny labels or a set of mugs, so she can taste how much you love her with every sip.
Let's take a look at a few fun ideas:
Breakfast to order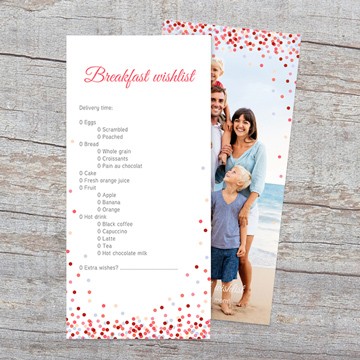 Maybe the Mother's Day breakfast doesn't have to be a surprise and you prefer to make it customised? Then make a photo card in advance that the lucky mother can fill in. Ask her what time she would like to have breakfast, how she would like her eggs, what kind of bread and (hot) beverage she prefers and whether she would like fruit to go with it.
The real surprise will then be when she discovers the original contents of the breakfast basket. And the following tips will help you create it.
Basket or serving tray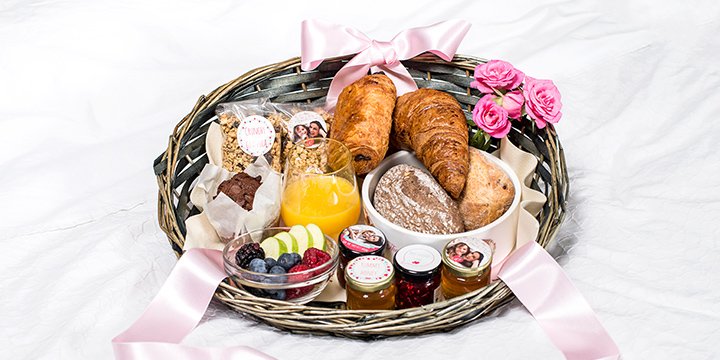 First, give some thought to the presentation of your Mother's Day breakfast. Do you want to pack everything neatly into a small breakfast basket or do you prefer to deliver it on a serving tray? Or perhaps in a large wooden crate with breakfast for the whole family? Decorated with small or large satin bows, a small bouquet of flowers or a single blossom here and there and a card.
Message on a bottle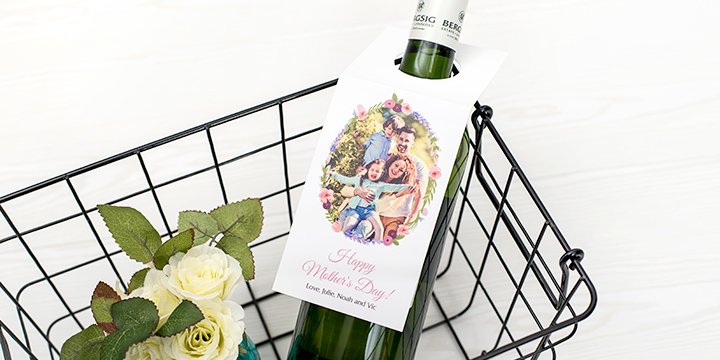 If the Mother's Day breakfast includes a bottle of something nice to drink, why not make it memorable? The bottle tag can be draped like a scarf around the neck of a bottle of champagne, milk or fruit juice and delivers an unexpected message. And of course, don't forget to add a little wordplay:
Ideas for the text:
Dear mum, your love keeps us warm!
A well-dressed bottle, because you always keep us looking our best.
It's a special day, so the bottle is dressed up for the occasion.
…
Funny labels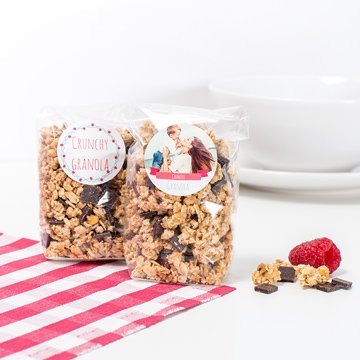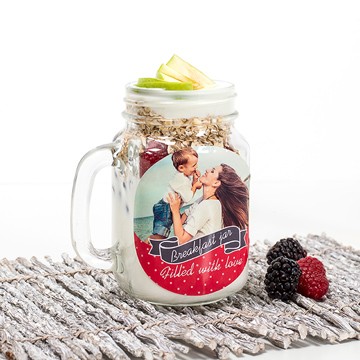 Fill some small paper or plastic bags with cookies, mini pastries or granola and then add a personalised sticker with a witty message. If your mum likes a healthy breakfast, then you could go the extra mile and fill a jar with layers of yoghurt, berries, oatmeal, almonds, apples… It's best to prepare it fresh in the morning so that the oats stay nice and crispy.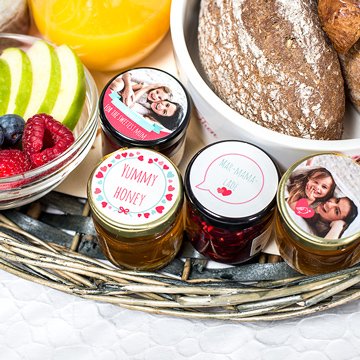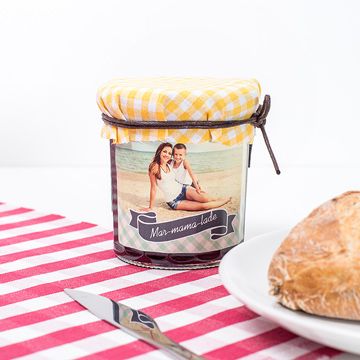 You can also stick an original label on little jars of jam, honey or chocolate spread. Write a poem or a funny description of the contents and finish with a ribbon.
Text ideas:
Honey: This product was made by bees who only work for wonderful mothers; yummy honey
Jam: mar-Mama-lade; Sweet marmelade for the sweetest mother
(Magic) mugs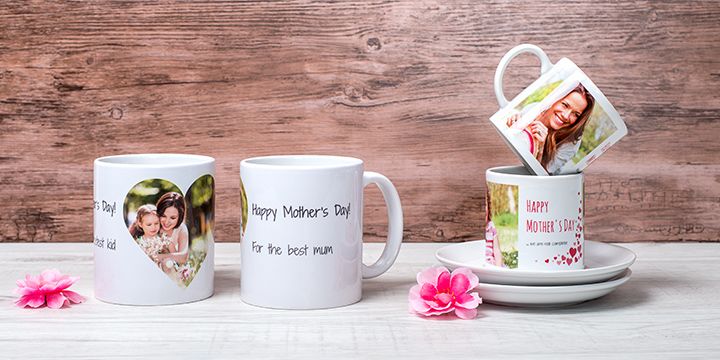 A magic mug reveals a photograph when you pour hot liquid into it. And no doubt, mum will feel warm inside too, thanks to this original gift.
But there are also possibilities for presenting the coffee or milk in a personal way. For example, an espresso set or pair of mugs, with coordinated text.
Ideas for text:
1. Without mum … 2. We just wouldn't be complete
1. Mum is the best … 2. Cuddler, chef, singer, driver… in the world
1. From the sweetest kid … 2. For the best mum
…
Cookie tin with drawing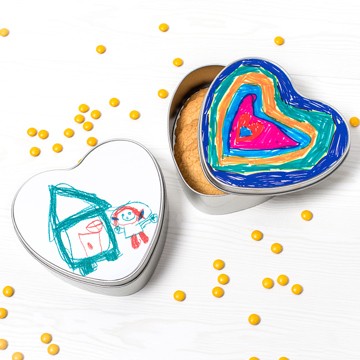 Let the kids make a drawing for mum, scan it as a photo and have it printed on a heart-shaped cookie tin. If you want to offer a cake or brownies on Mother's Day, here's a handy trick for hiding it inside the cookie tin: place the cake upside down and use the tin as the cookie cutter. It's a fun surprise at breakfast and later on you can use the cookie tin in the kitchen to store other goodies.
Serve her memories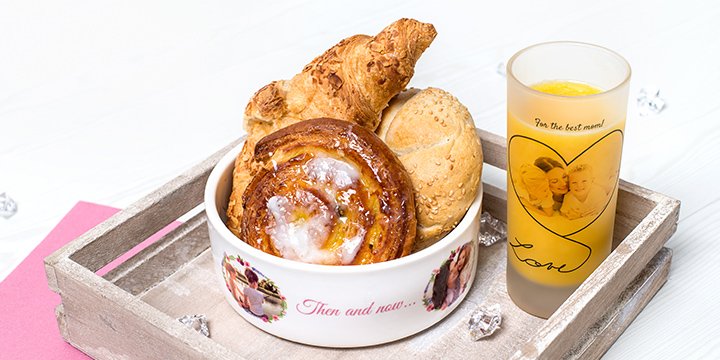 For a Mother's Day breakfast, the bread, pastries and muffins deserve a special presentation as well: why not use a personalised bowl, for example. Decorate it with photos of mum with the kids and combine them with old photos from her childhood, taken with her own mother. It's a bowl that will not only serve mum bread, but a healthy portion of nostalgia too.
And also fresh-squeezed fruit juice tastes better when it's in a glass with a photo that recalls beautiful memories. Create a set for the whole family or just have a single glass made that only mum gets to use.
Letter-shaped pancakes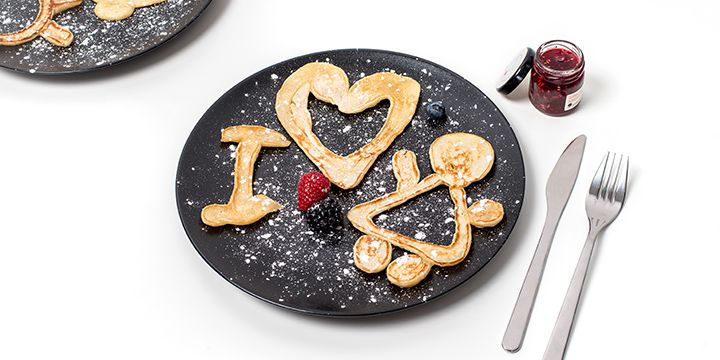 If you really want to roll up your sleeves and get creative in the kitchen, you can take it even further. Make batter for American-style pancakes, pour into a squeeze bottle or pastry bag and use it to write words in a pan. Here are some ideas for funny messages:
Wake up, mum!
I (heart) mama
Xs and Os (hugs and kisses)
After all, the way to anyone's heart is through his (or her) stomach. And that's why we love our mum so much, because she's such a good cook! But on this special day, of course she doesn't have to slave over a hot stove! On Mother's Day, bright and early, let's serve her all our love in a beautiful and original basket.
Warning: side effects may include tears (of happiness) 😉