Special days in your relationship call for a special approach, as any true romantic who buys flowers as a valentine's gift will tell you. And if you're a bit forgetful, you can probably speak from experience as well if you've ever gotten up on your sweetheart's birthday, unawares. It is simply essential to surprise your girlfriend with an original gift. Whether it's her birthday, your jubilee or Valentine's Day. But what's the best way to present it?
The following tips will help you to bring your message across in a surprising way. Your sweetheart will be bowled over and you'll score some major points with her.
Photo display wire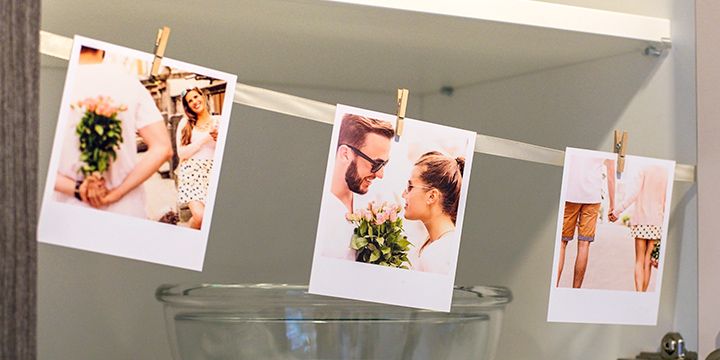 The night before, secretly hang up a photo display wire with a collection of fun retro prints. Hung diagonally through the living room or tucked away in the bathroom or the kitchen cupboards. If you choose the cupboards, you can make the surprise complete by whistling innocently and saying nothing as you get up. When your girlfriend goes into the bathroom or opens the cupboard to get her coffee cup, be prepared for squeals of delight. A long string, a few retro prints of your favourite moments, clothes pins and two anchor points to attach the display wire to: that's all you need!
Gastronomic surprise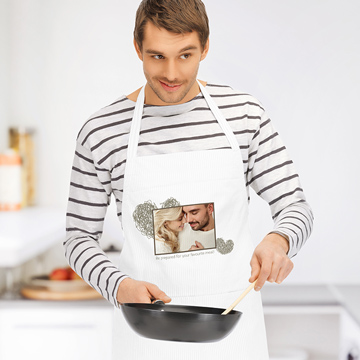 In the evening, you can try our culinary surprise. If you want to keep it low cost, but still give her a special day, then when she gets home you can open the door for her in an apron with a message: ready for your favourite meal? And if you truly want to be the star of the evening, you can secretly do the grocery shopping in advance to make it a real surprise menu.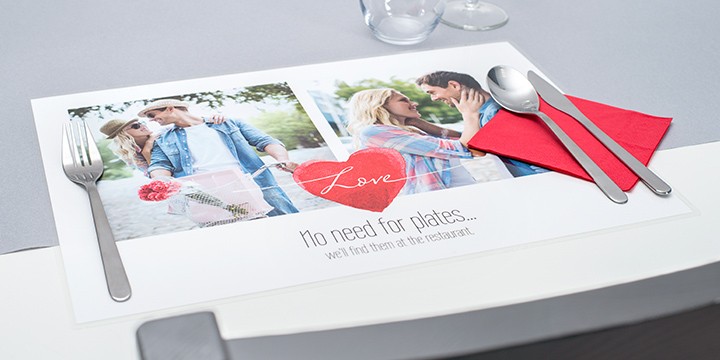 What if your culinary skills are hopeless, but you'd like to enjoy a gastronomic evening? Here's how to create a diversion. In the evening, tell your girlfriend that you want to treat her to a home-made meal and ask if she can help you set the table. Hand her two personalised placemats with a great picture of the two of you and the text 'We don't need plates. Because they're waiting for us at Restaurant …' Not a lot of work for a big surprise!
Wallet to go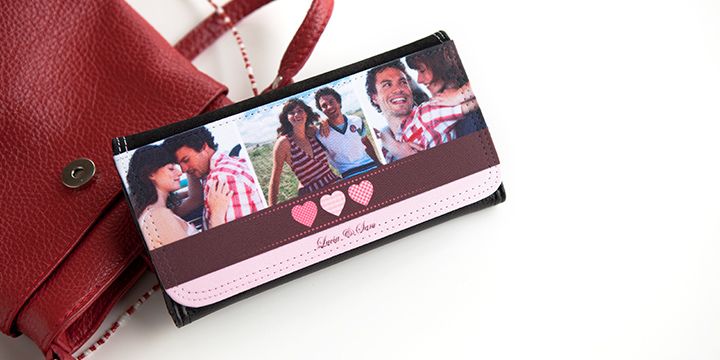 Once you're at the restaurant, the surprises don't have to stop. When your girlfriend goes to the ladies' room for example, you can quickly drop a personalised wallet with beautiful photos of the two of you or of the kids in her purse. Then, when it's time to pay the bill, you can pretend you forgot your own wallet and ask her if she can take care of it. Once she discovers the new contents of her purse, she'll be all smiles.
A pillow with a secret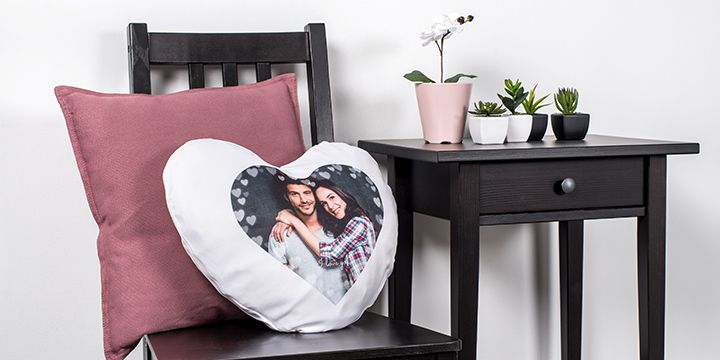 In combination with the above ideas, of course you can also surprise your girlfriend with an original gift for her. For example, you can place a heart pillow on the sofa with the message 'Beauty is on the inside'. When the two of you snuggle up on the sofa to share a drink, your girlfriend will melt (or giggle) at this witty touch. Until she discovers that the message really is inside the pillow: a gift certificate or a card with a beautiful photo and text.
Message on a bottle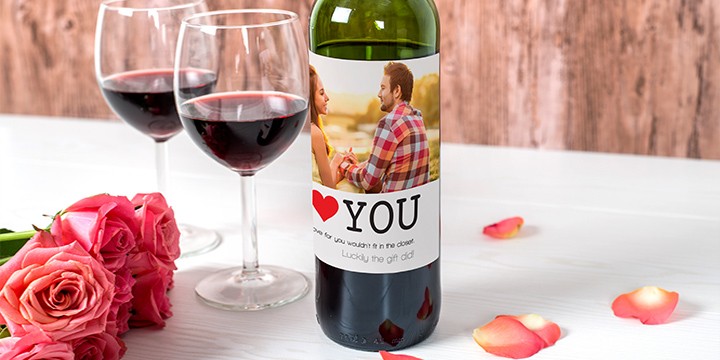 Have you bought your girlfriend a big present, but you don't want to just give it to her in the traditional way? Then, before dinner, you can take out a bottle of champagne with a personalised bottle label. On the label you can write the cryptic message: 'my love for you is too big to fit in the cupboard. Fortunately, the gift was a lot smaller'. And then, with a meaningful look, you can encourage her to find out which cupboard contains her surprise.
Photo book puzzle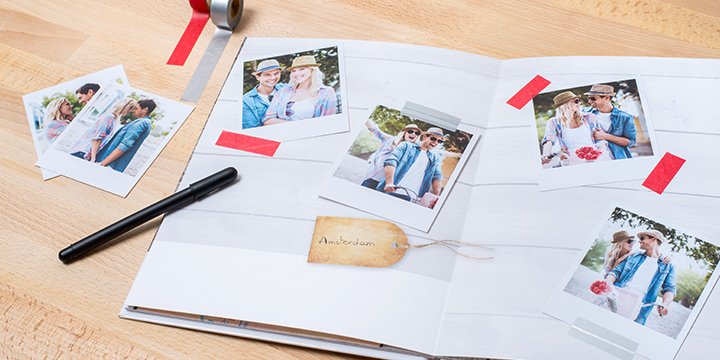 Another idea is to trick your girlfriend with a do-it-yourself photo book. In advance, create a photo book with symbols, titles of places you've been, poems and references, but leave some empty spaces here and there. When your girlfriend starts flipping through the book, you can pretend the blank spaces are a mistake. Then, with a big smile, you can give her a packet of photos and some washi tape. Together, you can pick out which photos match on which pages and that way relive the experiences of the past year.
Surprising cards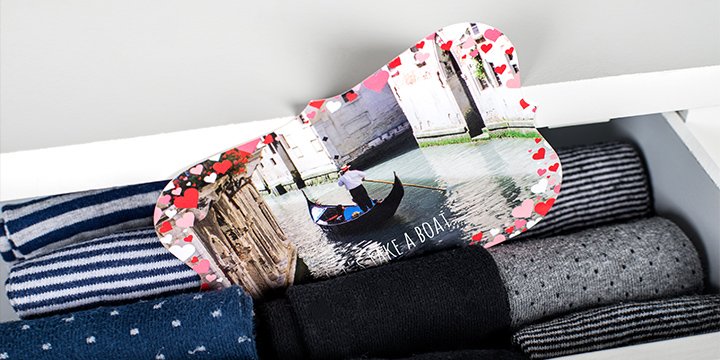 Do you like to keep it suspenseful? Then you can hide little photo cards all around the house as clues to a message: in the sock drawer, under the sink, between the pillows on the sofa … Each of the cards displays a photo of a detail of the destination (for example a city in Europe) and a fragment of a sentence. Only once she's found all the cards, will she be able to decipher where you're going and when.
And of course if you've bought her a nice present, you can also include a sweet and simple photo card with it. Our designers Lisa and Marielle have been hard at work once again this year to add original new designs to our range.
So, from now on, why not make it a yearly tradition to surprise your girlfriend and see if you can outdo yourself as an actor each time. With a creative mindset and the right attitude it's bound to be a hit! Long live love!