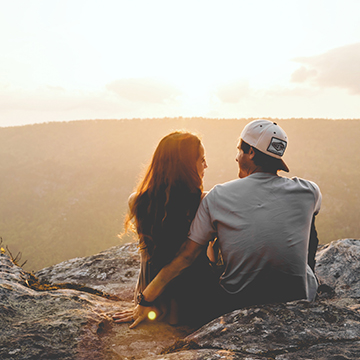 The holidays are over, the new year has started, and so the 14th February – the day of love – will soon be upon us! Valentine's Day is the perfect day to demonstrate to the important people in your life how much you love them. But each year it is another challenge to do this in the most beautiful and original way.
You don't have to buy expensive gifts to get the message across. On the contrary, by taking the time to make your own Valentine's Day gift you can really show them how important they are to you.
Do you want to improve on last year's Valentine's Day gift? Or do you want to show your new love how serious you are? Then roll up your sleeves. The following DIY ideas will help you to easily and quickly make an original Valentine's Day gift.
1. Cookie tin
Love is a winning game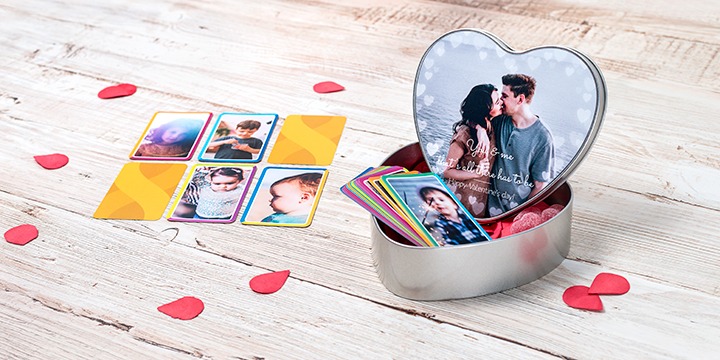 Love is a losing game is what they say. But is that true? Test it yourself with this homemade game box!
First make a heart-shaped cookie tin with a beautiful picture of the two of you. Then fill the cookie tin with red sweets, ribbons, bows, … and a personalised card game (such as memo cards). To give it a nostalgic touch you can use some childhood pictures for the card game. Their hearts will melt! <3
Are you going to celebrate Valentine's Day with other couples? Then arrange to each bring your own games boxes with different personalised card games. Put some funny pictures on the cards to distract the other parties from the game and claim a victory. 😉
Cookie hearts
What else should go in a cookie tin? Cookies of course! Not from the supermarket, but home-made.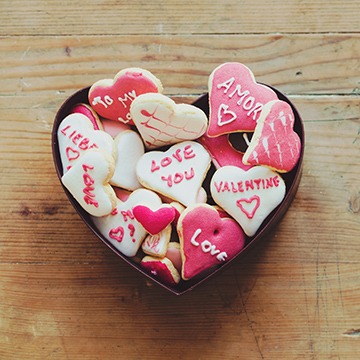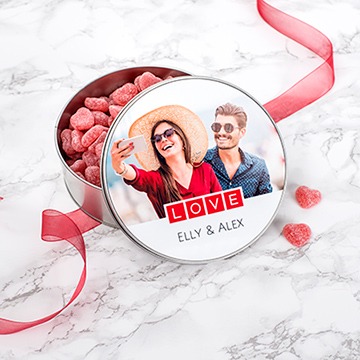 Put on your kitchen aprons and use heart-shaped cutters to make true Valentine's Day cookies. Then write romantic messages to each other on the cookies with coloured icing or small alphabet stamps.
* If you don't have the time or don't feel like baking, fill the cookie tin with candy hearts.
2. Flowers with gift card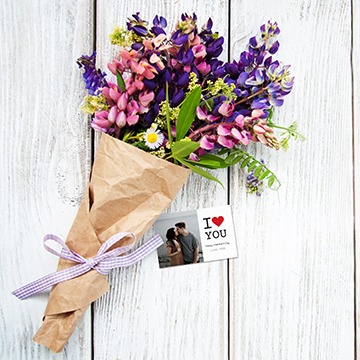 Valentine's Day is when you want to shower the person you love with flowers. This can be your sweetheart, but also your sister, brother, parents, or best friend, … When you give a present to these special people in your life, such as a bouquet of flowers, make it something personal. Put in a card with a beautiful photograph of the two of you from the past year, accompanied by a short message explaining why this person is so important to you.
3. Valentine's Day card with bookmark
Is your lover a real bookworm and do you want to give them a symbolic and useful Valentine's Day gift on 14 February? Then do the following: combine a card with a personalised bookmark. Put photographs of each of you separately on the card – possibly from before you met. Then, stick some photographs of you as a couple on the bookmark.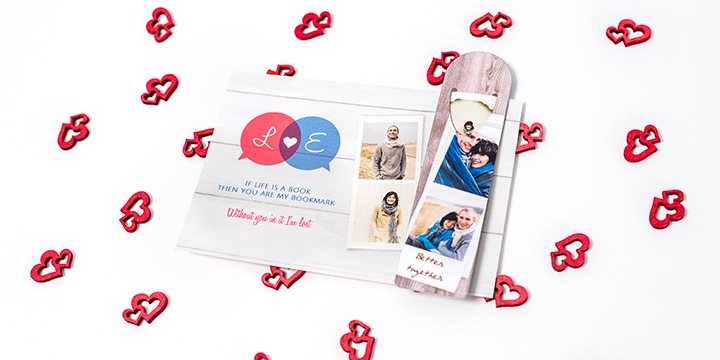 Present the card with the bookmark placed on the card – just above the photographs of each of you separately – and write the following message: If life is a book, then you are my bookmark. Without you in it, I'm lost. 🙂
4. Jewellery box with keepsakes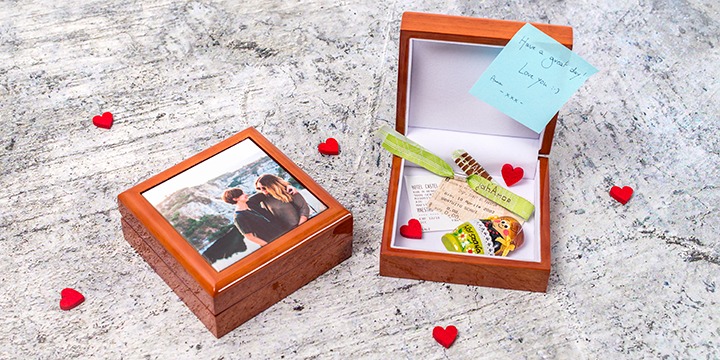 Are you a real sentimentalist holding on to keepsakes of the special moments in your relationship? How about turning them into a present? Put all these keepsakes together in a jewellery box with a beautiful picture of the two of you to show how much you value your relationship.
Examples of keepsakes:
Bill of your first dinner date.
Entrance ticket or wristband of the concert where you first met.
Refrigerator post-it note with message.
A small gift card with the content of your first text messages.
5. Matching sweatshirts / T-shirts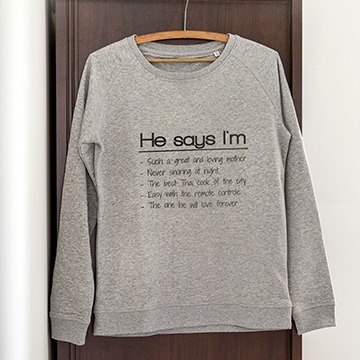 If you are happy to tell the world that you belong together, then a pair of sweatshirts or T-shirts with complementary messages is an ideal Valentine's Day gift. On the internet you will find a lot of ideas for complementary sweaters to wear as a couple or BFF's.
Turning it into something personal is even more fun: ask your partner to create your sweater with the qualities they like about you or the opening sentence with which they first approached you. Don't look at what the other person has made for you (place two separate orders if necessary) and open the packages together on Valentine's Day. 🙂
6. Origami hearts
Immerse your home in a romantic atmosphere on Valentine's Day with a banner of origami hearts.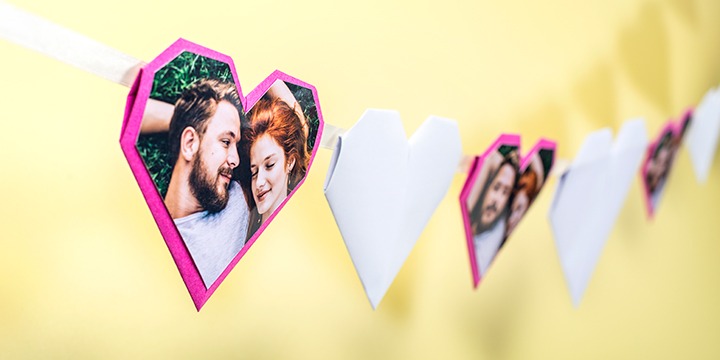 There are two options:
Order party flags with photographs and intersperse them with origami hearts.
Make a banner of origami hearts. Then cut out hearth-shaped photographs and glue them to the origami hearts.
A video with folding instructions can be found here: https://youtu.be/nnV262Egucw
I wish you a very happy Valentine's Day with original Valentine's Day gifts and, above all, lots of love! And don't forget: true love comes from the heart (and creative hands). 🙂