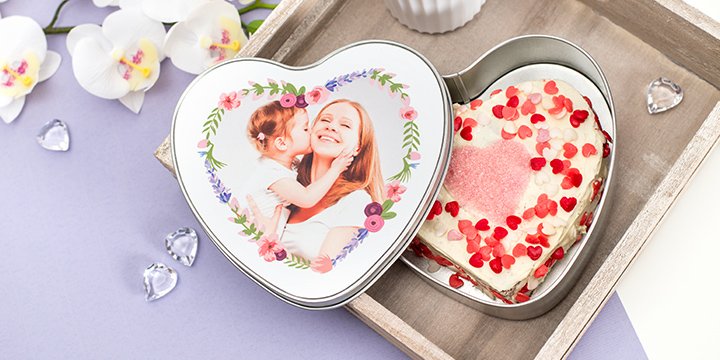 There's recently been a sweet addition to the smartphoto range: the heart shaped cookie tin. The perfect idea for an original gift on Mothers' Day, Valentine's Day or any time you want to surprise someone.
As the name suggests, this cookie tin is ideal for storing cookies in. But if you like to think "outside the box", then it's time to roll up your sleeves and show off your baking skills!
Here are the instructions for an adorable heart shaped chocolate cake that fits right inside our cookie tin.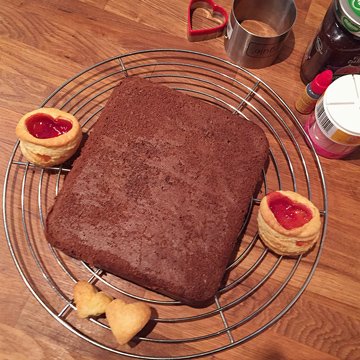 1. First, make a large square chocolate cake or brownies measuring at least 16 x 8 cm (about 6 x 3 inches) in total. You can make it bigger, of course, and then you'll have some tasty leftovers for yourself after baking.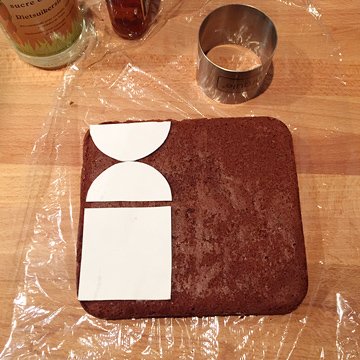 2. From a piece of paper or cardboard, cut the following two shapes: a square measuring 7 x 7 cm and a circle with a diameter of 7 cm (2 and ¾ inches). Cut the circle in half and arrange the pieces together so that they fit on top of the whole chocolate cake. Now cut these shapes out from the cake.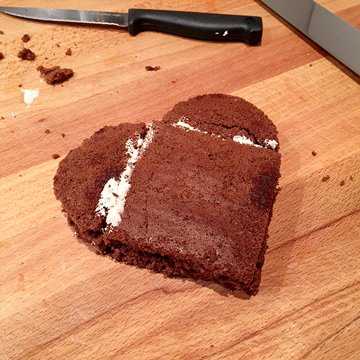 3. Then you can assemble your heart cake as in the photo. Stick the three pieces together with buttercream*.
*It's easy to find a recipe for buttercream on the Internet.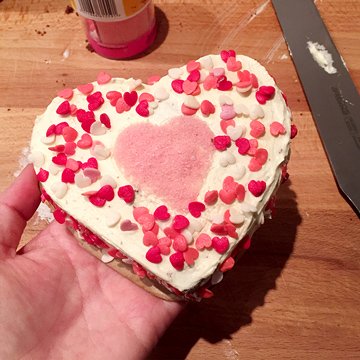 4. Now cover the top and sides of the heart with buttercream or roll out a layer of pink marzipan on it. Finish with decorations: edible hearts, glitters, a name in chocolate letters, … Use your imagination!
And now all you have to do is serve your heart shaped chocolate cake in a heart shaped cookie tin with a beautiful photo on it and you're all set! And don't forget to present it with a loving look.
We'd like to thank our colleague Veerle for making this beautiful heart shaped cake and allowing us – the smartphoto team – to be her tasters the next day. 🙂