Having your first child: what a miracle! And also: what a challenge! Changing nappies, learning to breastfeed, speaking baby talk and learning to survive without sleep. These are just a few of the learning processes you'll go through. Luckily, you've also got a motivated dad on your team who is going to give it his best shot.
But despite the best of intentions, a new dad is something of a phenomenon. Because behind his beaming smiles, a whole lot of questions are often concealed. He feels like he's going through a second puberty: the body is changing (even if it's his wife's body) clumsiness is his new middle name (which is the front side of a Pamper?), he's constantly having to answer mathematical questions (weight, length, age…) and what's more, female attention is often scarce.
Being a dad for the first time is no joke! That's why his first Father's Day is the perfect opportunity to come up with a cool gift.
But maybe your mind is a bit of a blank right now? No worries! Here, we'll give you two easy and original gift ideas to make it a very happy first Father's Day.
1. Gift card for two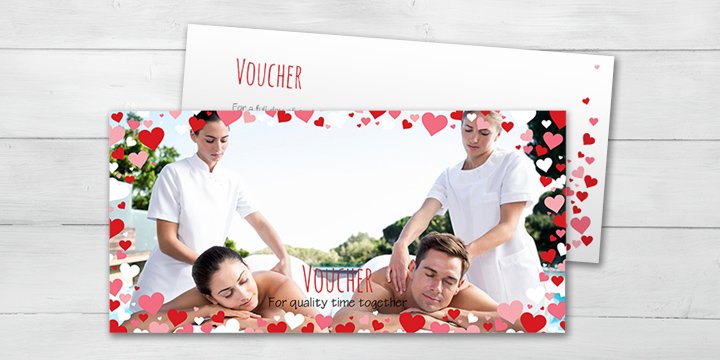 I's a big taboo, but that doesn't make it any less true: in the first months after the baby arrives, there's not a lot of romance for a while. So what better Father's Day gift than some quality time for two! First, find yourself a reliable babysitter, so that you can head out with peace of mind. And then surprise him on the morning of his first Father's Day with a gift card.
Top tip: making your own voucher is a lot more original than just buying one. Here's how you do it:
If you can work with Photoshop, then use an existing photo of, for example, a wellness spa and find an amusing way to stick your own heads onto the bodies of the models.
If you'd like to keep things a bit simpler, then just choose a photo card with a Love you design and add a text telling him why he deserves this gift card. Is it because you've successfully faced this new challenge together, side-by-side, in the past few months? Or because he's learned so quickly how to be the best dad in the world?
You can also turn this quality time concept into a good habit: every time somebody changes a nappy, drop 50 cents into a piggy bank. At the end of each month, you can count out how much is in the piggy bank and use it to do a fun activity together.
2. Lazybones coupon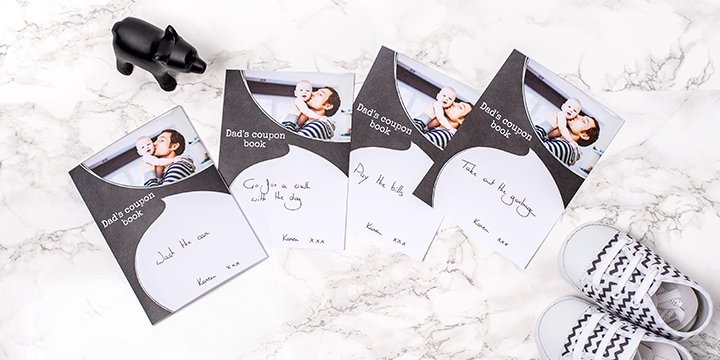 Dads don't always do what they should. You can tell him a hundred times and he'll still leave the toilet seat up. But what if you could combine a gift for the new dad with some useful conditioning? Use a personalised notepad to create a personal coupon booklet with vouchers for all kinds of little jobs:
Putting his clothes in the hamper after his morning shower
Washing the car
Going for a walk with the dog
Paying bills
Taking out the rubbish
…
In the case of extreme laziness, he can pass this job on to you in exchange for a coupon. He'll be glad that he doesn't have to do it and you'll be glad that there's a written reminder that certain jobs simply need to be done. 🙂
3. Funny t-shirts for a proud dad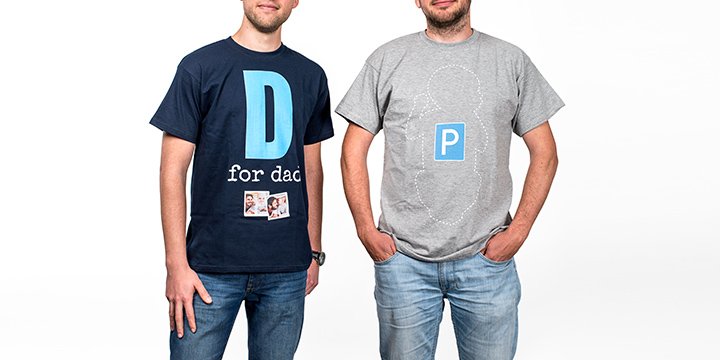 Do you want to make his first Father's Day truly complete? Then give him a funny t-shirt that describes fatherhood in a couple of words. Here are some great ideas for cute texts:
Parking for baby (because babies often like to fall asleep on dad's belly, on the couch)
*Click on the following links to open the image in white or black and download it
Yes he/she's mine (because dad often jokingly gets asked if the baby is his)
No baby talk please (to avoid conversations with difficult questions)
Thanks, just like his/her dad (this applies for all the compliments people will give about the baby)
T-shirt dad: Napping … when he/she wakes up. Baby onesie: Peacefully sleeping … when he's awake.
I survived my first month as a father
D for Dad
For this first Father's Day, your little son or daughter won't be able to make a gift yet, so… time for you to get creative! And with the above tips, it doesn't have to be complicated or a lot of work to make a gift that the new dad is going to love. Make his first Father's Day a day full of fun!