Are you looking for a Mother's Day gift? Mother's Day is 27th March and there are loads of ways to show your mum how much you appreciate her – like a personal and unique gift based on what she likes to do. Does she love to cook, or are pictures of her children and grandchildren the way to her heart?
We've come up with 7 ideas for gifts and things to do on Mother's Day – whether it's your own mother you're celebrating, or a little one you're helping to celebrate theirs.
Psst: Are you a mother yourself? You could even forward this post to someone you think may be looking for ways to surprise YOU on Mother's Day.
1. A monthly photo book from your life!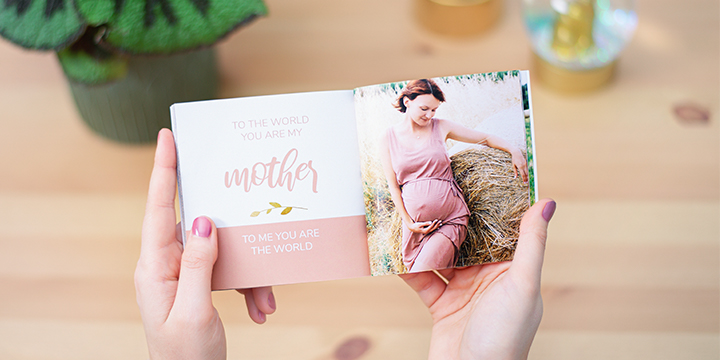 The perfect Mother's Day gift for the kids' grandparents! Does your mother refuse to use social media and modern technology? Give your mum a monthly mini-photobook so she can follow your everyday life! A perfect gift for all mothers and grandmothers who live far away. All you have to do is upload your 52 best photos from each month, choose a title for your book, and you're done! This Mother's Day gift also lasts all year (or as long as you choose)! You can also choose to create a Mini Photo book with quotes. A 52 page photobook filled with quotes, text and photos.
Tip: Do you take a lot of pictures with your smartphone? Mark your favourites directly in your mobile album, that way you don't have to go through all the photos when it's time to create your monthly mini-photobook.
2. Give them a perfect start to the day – every day!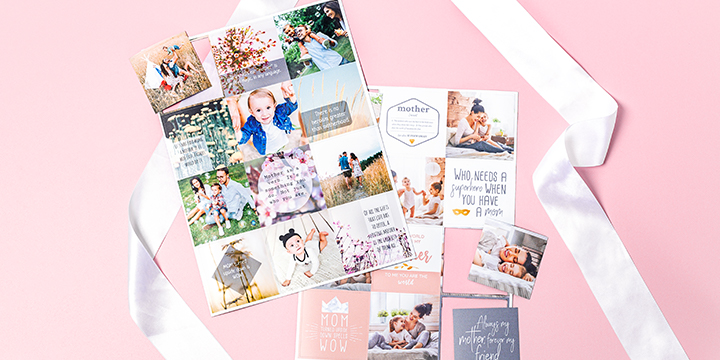 Help your mum to start each day with warm and uplifting words. Add pictures of people, things, and places that your mum (or your wife) loves and you have the perfect Mother's Day gift. New for Mother's Day 2022 are these two sets of refrigerator magnets (choose between sets of 9 rectangular magnets or 12 square magnets). Are you a fan of quotes? Then this template is perfect for you! If you want some suggestions for beautiful quotes for mums, choose this template.
3. Have a drink together on Mother's Day
4. A book with a personal greeting inside as a Mother's Day gift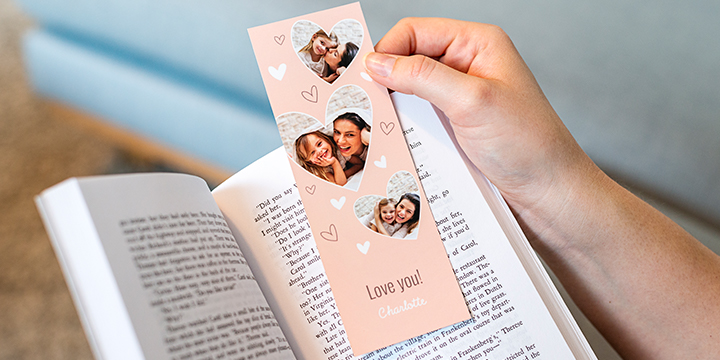 Is the mother you're buying for a book lover? Get her the latest book by her favourite author. As an extra detail, add one bookmark with a personal greeting and pictures of those she loves!
5. Frame your favourite photo
6. Make a unique card for Mother's Day!
7. And a little extra tip!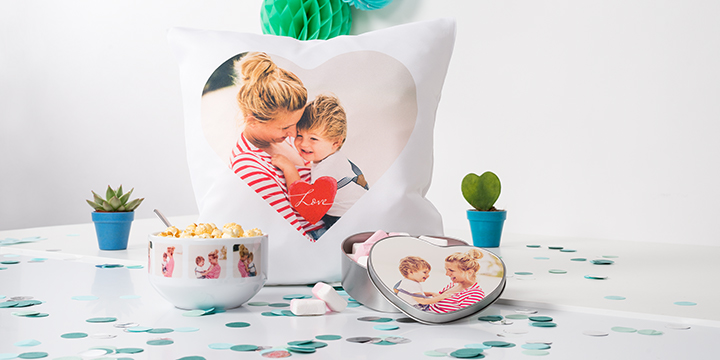 Do you want to go big and give away several small gifts as a set? Then check out this page where we have collected all the products with beautiful Mother's Day designs. My favourite design is "Heart frames" Now you can create any product you like – a mug, a wallet, a water bottle – in the same design.
Giving a long-distance gift is super easy!
Happy Mother's Day all you amazing mums!