Blogger Emily Ödmark – emilysliv.se – is a real professional when it comes to organising birthday parties. Emily – and her sister – arranged the absolute sweetest party for little Alma's 1st birthday. A shimmering rose party with wonderful personalised details. With a clear colour theme – gold and pink – fantastic pictures of Alma printed on matching stickers, bottle labels, candy bags, and party flags, we are just amazed by how beautiful she made it!
Smartphoto got the opportunity to follow little Almas first birthday by getting all these lovely photos. We are very grateful to be able to share all the tips and beautiful details that Emily used to create this year's most wonderful birthday party with you! 
Birthday party – put the guest of honour on a beautiful bottle label!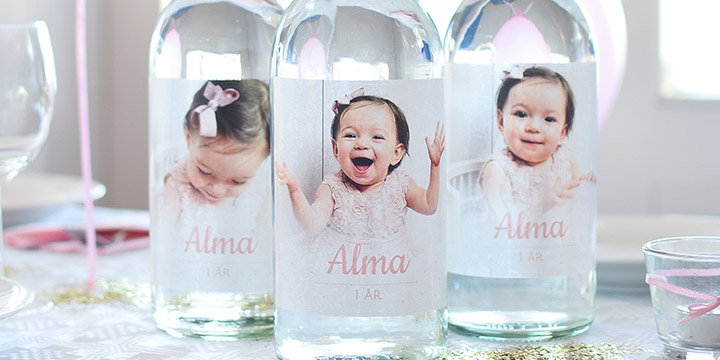 Personalised bottle labels bring something extra to a birthday party. Choose the images you want along with the design that best suits your party. Does the birthday boy or girl love Spiderman? Take a picture of them in a Spiderman costume, order bottle labels, and make Spiderman juice! Guaranteed to be a hit with both kids and adults!
Product information – Bottle labels
Sets of 6 self-adhesive labels
Add pictures and text. You can design each label individually
Bottle labels printed in full colour
Dimensions: 12 cm × 12 cm
Price: £5.99
Order bottle labels here
Decorate with party flags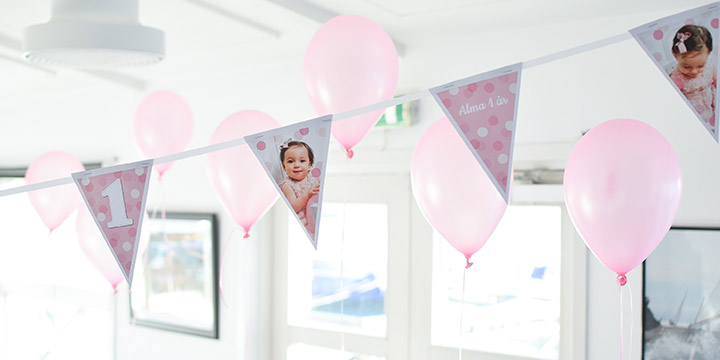 Just look at these party flags! You can personalise them by adding your own photo, text, and choose a stylish design to fit the theme of the birthday party. The party flags come in a complete set with 16 paper flags and string. Find your design here.
Product information – Paty flags
16 paper flags with print on both sides
Create 16 unique flags
Easy assembly: 4 perforated sheets of paper with 4 flags on each, 7 m hanging strip, and instructions
Dimensions: 20.3 cm (height) × 14.1 cm (width) × 0.05 cm (depth)
Price: £14.99
Order bunting here
Personalised guestbook that everyone will want to sign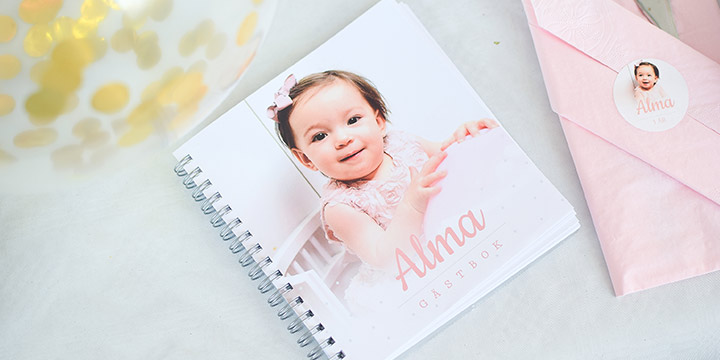 A guestbook is a birthday-party classic. Children can draw and the adults can write a special message to the birthday boy or girl. See how great it looks when you put a picture on the front of the guestbook? Depending on the design, you can also add pictures and text to the inside of the guestbook when ordering at smartphoto. Personal and perfect for all birthday parties. Match with the theme as Emily did with the pink text – and a great picture of Alma – everything matches up beautifully!
Product information – Guestbook
Booklet with a personal cover and pages
Introduction page for information about the party or perhaps a poem
64 pages
Protective cover
Metal spiral binding for easy page-turning
Dimensions: 15 cm (height) × 14 cm (width)
Price: £16.99
Order a Guestbook here
Create the right mood with decoration stickers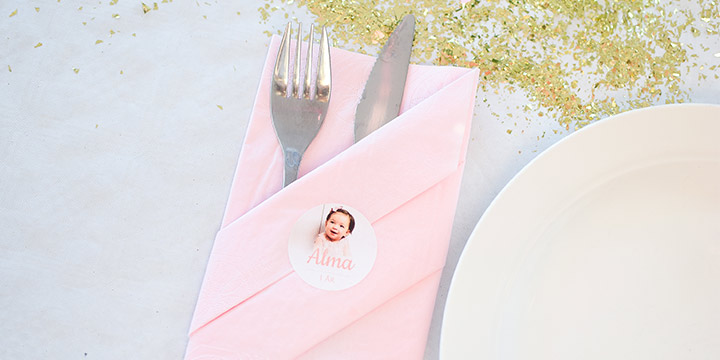 Look how lovely decoration stickers on a napkin can be! It's impossible to miss that it was Alma's special day, and such details really add a touch of class to any birthday party!
Product information – Decoration stickers
Glossy finish
Self-adhesive paper
24 identical stickers
Dimensions: 4 cm × 4 cm
Price: £5,49
Order decoration stickers here
Create candy bags with style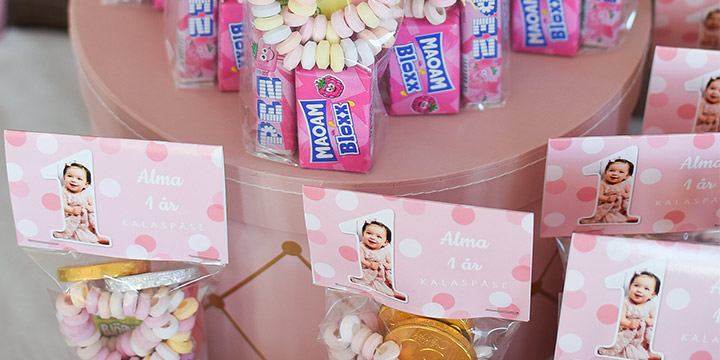 Emily has really thought of everything, coming up with a clear theme and giving a personal touch to even the smallest things for the birthday party. Check out these candy bags with pictures of Alma she made. You can also fill the bags with other fun things like nuts or small toys. When it's time to play hook a duck game at the birthday party, the bags are the perfect size for little guests to hook!
Product information – Candy bags
Set of 24 cellophane bags and 24 cards
Assemble the bags yourself with the cards and anything you want!
Card (folded): 5.5 cm (height) × 8.5 cm (width)
Bag: 13 cm (height) × 8.5 cm (width) × 3 cm (depth)
Price: £10.99
Order candy bags here
Parties can be organised in endlessly different ways. If you already have lots of ideas of your own, we have made it extra easy and collected all our party products together here.
The most important thing is that it suits you and – above all – that it will be fun. Do you have any tips of your own that we have missed?
Good luck, and don't forget the cake!