Delight your guests with personalised gifts and party favours! In this edition of One Minute Craft, There are three small surprises you can make to show your guests how much you appreciate them. It's simple DIY ideas – perfect for any celebration: weddings, baptisms, children's parties, student celebrations, and summer parties. Watch the video to see what you can create, or just follow the simple step-by-step guide in this blog post.
Party favour 1: "Thanks for popping by"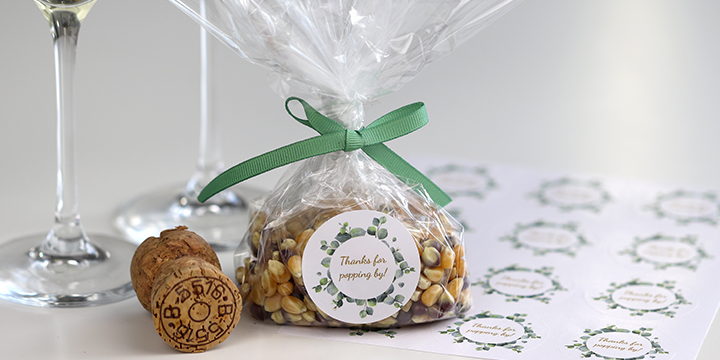 A perfect gift for wedding guests. Weddings are always a big day, and the guests play a crucial role in providing a wonderful atmosphere. Thank them with this incredibly sweet gift. It's super simple to do, and it won't break the bank! This is a great tip if you're on a tight budget or if you would rather spend money on other things while still giving your guests something stylish and memorable
You will need:
Cellophane
Fabric ribbon – in your chosen color scheme
Popping corn (preferably of different colours for a great effect)
How to: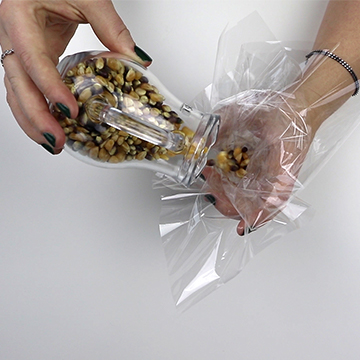 Start by cutting a fairly large square of cellophane. Don't make the bags too big, though – it's more a symbolic gift than an entire movie's worth of popping corn! Then, pour a reasonable amount of poping corn in the centre of the cellophane. Gather up the cellophane into a pouch shape and tie it up with your ribbon.
Finish by attaching a gift tag to the bag. We chose the puntastic phrase "Thanks for popping by!" Gift tags come in several different sizes and formats. In our example, we used 4 x 4 cm round labels. They come in sheets of 48 labels for £ 6.99. There are hundreds of templates and designs to choose from, either text or text with an image too. Find your favourite here.
Party favour 2: "Build a snowman kit"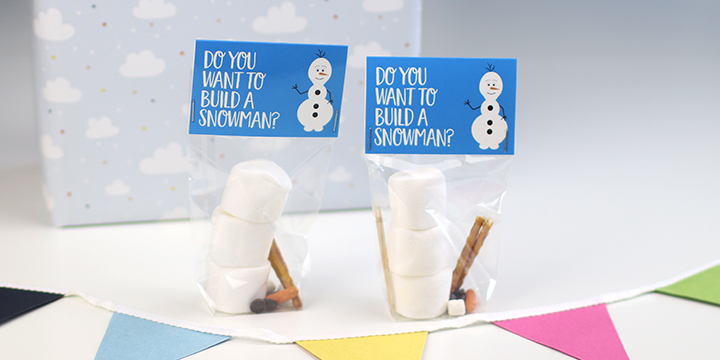 This gift is sure to be a favourite with the kids and a fun alternative to a traditional treasure hunt. Plus, it will also be fun to do together at the kids' party.
Here's what you'll need:
How to: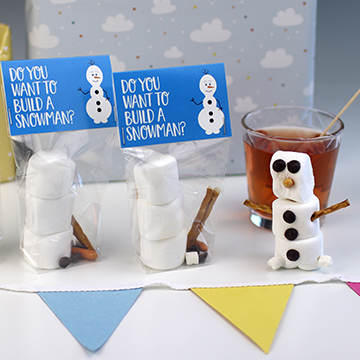 Design your candy bags at smartphoto.co.uk. Sweet bags cost £10.99 for a pack of 24. The pack contains both the cellophane bags and the tags, which you attach to the bags using a stapler.
Free snowman template for you to download!
The tags are available in several different designs. This particular design was created by our graphic designer Lisa and, naturally, she wants more people to use it! Click here to download your snowman template for free. If you want to look at the image before downloading it, click here. You then upload the image to smartphoto.uk when you design your sweet bag.
Ingredients for each snowman:
Put everything you need to build a cute little snowman in each bag.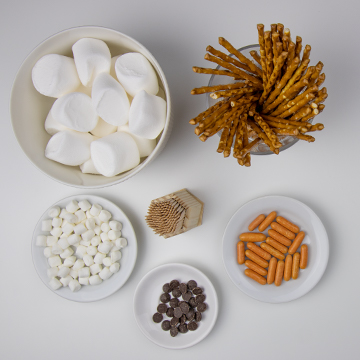 3 marshmallows (head and body)
2 mini marshmallows (feet)
2 pretzel sticks (arms)
5 chocolate chips (eyes and buttons)
1 small orange sweet (nose)
2 toothpicks (to hold him up!)
Party favour 3: "Wishing you a bubbly and fun summer"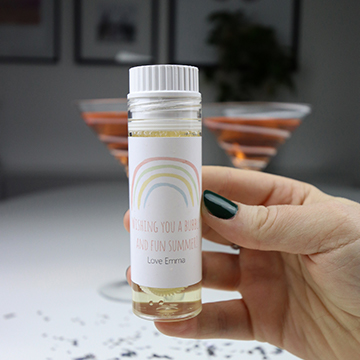 Party bubbles are a great playful gift for any occasion. Here we chose the phrase "Wishing you a bubbly and fun summer!", which makes it a perfect little gift for guests at a summer party or student celebration. Of course, you can Of course, you can have whatever you want on your label.
What you will need:
How to: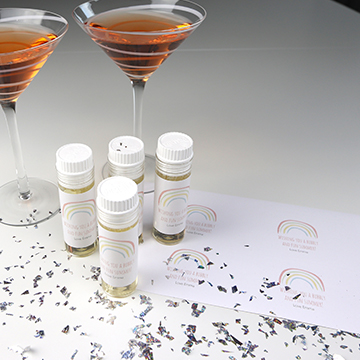 The party bubbles (with labels) come in packs of 12 and cost £22.99. The labels come on a sheet and are stick easily onto the bottles. Choose from lots of ready-made label templates and add your own text. Some templates have spaces for both a photo and text!
Good luck with your party plans – whether it's a children's party, a wedding, or a wonderful summer party!

Want to see more tips and easy DIY videos? Subscribe to our YouTube channel!

Feel free to comment below with other tips you would like us to include here on your blog and on YouTube.