Are you planning a wedding? It all starts with a beautiful wedding invitation or a simple save-the-date card. At Smartphoto, you'll find lots of beautiful wedding invitations and save-the-date cards. In just a few minutes you can create unique and personal cards, order them, and have them sent to your home! All you have to think about is the color theme and design you want for the wedding, a suitable picture, and what they should say. Leave the rest to us! Below we'll guide you through how to create personalized save-the-date cards and wedding invitations!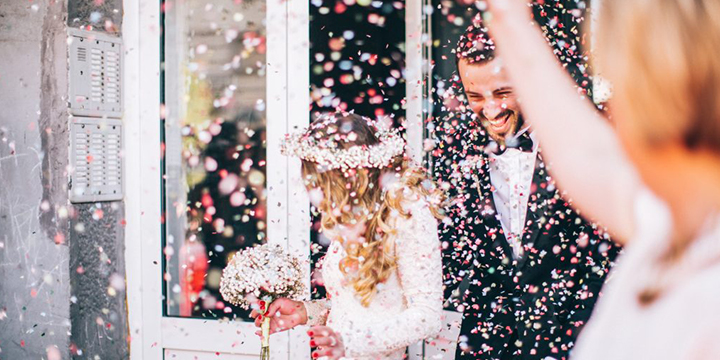 The fact that your wedding invitations and save-the-date cards will set whole tone for the wedding can make this the part of the planning very stressful. This is where you set both the color theme and graphic profile for the entire wedding. It's easy to mess it up while you cut and paste and glue silk ribbons well into the night. One tip is to stop and scale down – "less is more" is a good expression to work with. There's a lot to prepare for a wedding, and it's easy to feel stressed. Finding a single supplier for all your printed materials makes it much easier, and once you have chosen your favorite wedding design, it can be used on lots of the items you'll be needing, such as placement cards, thank-you cards, bottle labels and gifts for your guests, such as these beautiful soaps.
Creating wedding invitations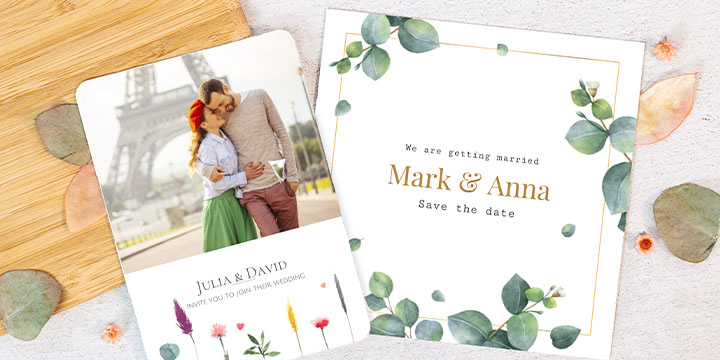 Creating your own stylish, unique, and personal wedding invitations doesn't have to be difficult. Under our photo cards category, you'll find all our different formats, sizes, and designs. We recommend that you choose a design theme that will be the basis for your wedding first. On the photo cards page, you'll find a search filter where you can choose:
Occasion – what is it that you're inviting people to? e.g., wedding, birthday, etc.
What type of cards do you want – invitations, thank-you cards, menu cards, etc.
Under Product, you choose the format you want for your cards
Design – see Smartphoto's design options
Design color – sort by what color scheme the wedding should have
Number of images – how many photo zones do you want? Do you have a single picture or do you want a collage of pictures? Or do you just want text?
Price – in what price range should your card be?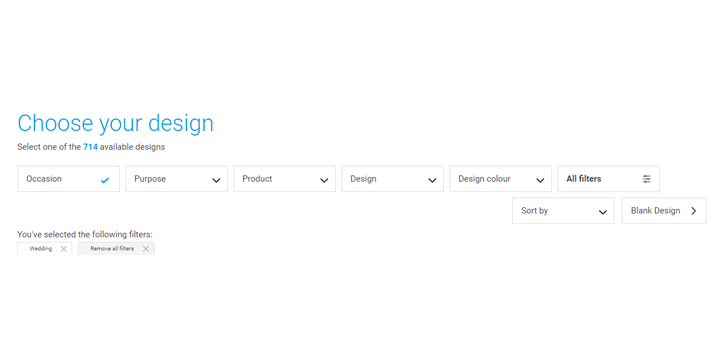 Here is a simple instructional video on how to create wedding invitations, among other things:
Wedding invitations – what type of card should you choose?
There are several different formats to choose from. Which one you choose depends a little on what mood you want to convey with your card. A simple photo card can indicate that you want a simple and relaxed wedding while a double weight card, in, for example, panoramic format, gives a more luxurious impression. When you create your wedding invitations, you can choose from the following formats and sizes:
1. Classic photo cards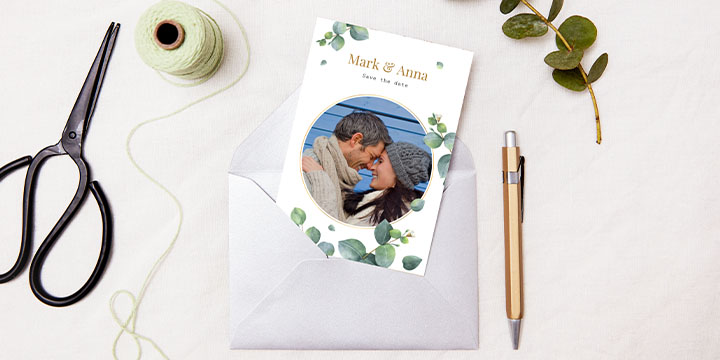 Smartphoto's classic photo cards are available in several different sizes, formats, and card types. Here's what to do when choosing cards:
First choose the format:
Do you want landscape, portrait, or square cards?
Then choose size:
Size (different options come up depending on the format you have selected)
And finally, card type:
Choose, for example, between a simple card or a weighted one.

The classic photo cards include white envelopes, but you can choose a colored envelope as an option. For example, sparkling gold or silver, lavender, or dark red. For Smartphoto's classic photo cards, you can also choose between two types of corners: Square corners or rounded corners.
2. Creative Photo Card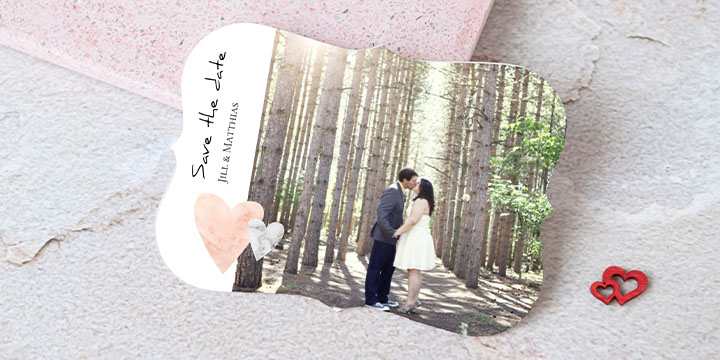 Do you want your wedding invitation or save-the-date card to stand out? Then you should choose a creative wedding invitation. The cards come in the following forms:
Tip edge (as in the picture above)
Clouds (with corners shaped like small clouds)
Wings (where two corners are straight while the other two are rounded)
3. Fold out photo card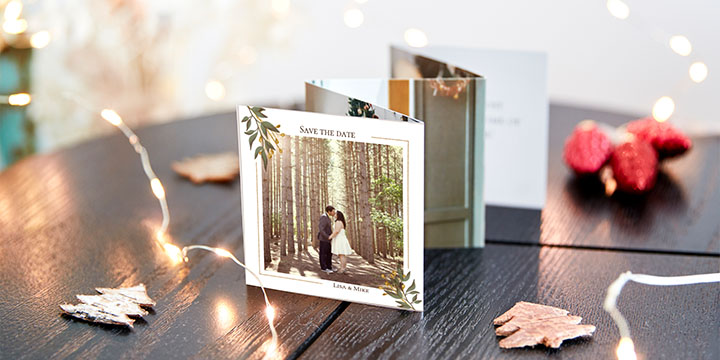 Choose a fold out photo card if you really want some space for personal elements. These cards are a kind of portfolio where you can show off lots of pictures and put in text. Sold individually or in sets of 12 with a white, pink, or blue ribbon included.
4. A more luxurious wedding invitation – Two-piece card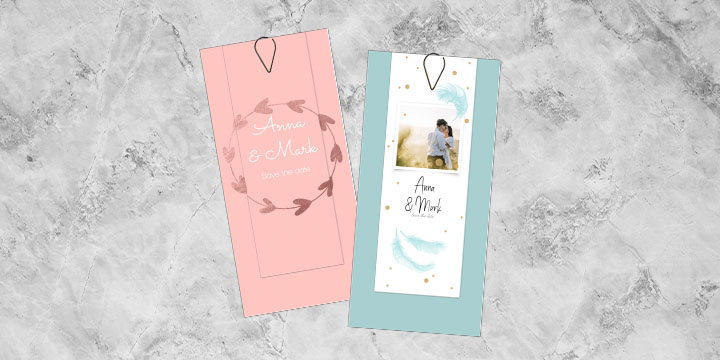 Smartphoto's Two-piece card is one of our more luxurious options featuring two standing cards (one is a little smaller than the other) held together with a drop-shaped paper clip in gold or black. The smallest card has one side print and the large card has prints on both sides.
Using extra options
Using extra options for your wedding invitations can take your card to the next level! Below is a list of the options you can choose from. These options come up once you've created your card and moved on to the payment page.
1. Selection of paper
If you create a photo card at Smartphoto, you get a high-quality print on standard paper. If you want to add more luxury to your card, you can choose to print your invitation on sparkling paper or paper with a matte structure.
2. Select colored envelopes
If you create a photo card at Smartphoto, a white envelope is always included. If you want to make sure that your invitation stands out, you can choose a colored envelope. This is also done in the last step, once you have created your card and moved to the payment page. You can choose from the following colors (note that not all colors are available for all card types):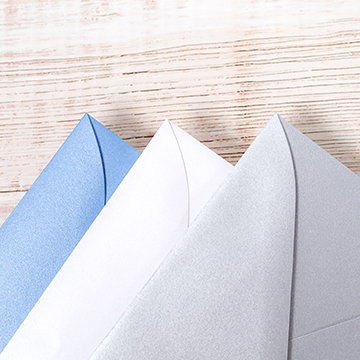 Dark red
Brown
Lavender
White sparkling
Silver sparkling
Blue sparkling
Gold sparkling
Luxurious White
3. A varnish effect gives extra life to your wedding invitations!
Finally, we have a tip on how you can give your wedding invitations that little extra by choosing a varnish effect. Here, Smartphto adds structural pressure to selected parts of the card. The structural pressure gives a nice shiny effect to your invitations. Keep in mind that this option is only available with standard paper and cannot be combined with rounded corners.
Smartphoto wishes you all the best with your wedding preparations. If you want even more inspiration, go to this page where we have gathered together everything you need to think about for your big day.