Create your own noticeboard for your home office, kitchen or hallway! We have created a fun DIY project showing you how to reuse a tired old photo canvas and turn it into a noticeboard. All you need is a roll of cork and some nice fabric, then just start filling your board with beautiful things! Watch our DIY video or read our step-by-step guide in this blog post. We have also provided lots of wonderful tips on beautiful things that you can fill your board with – don't miss it!
What you'll need:
An old canvas board
A roll of cork
A piece of fabric
A staple gun
A glue gun
Clips (to hang things on the board)
Pins (to attach things to the board)
What you do:
1. Glue the cork to your canvas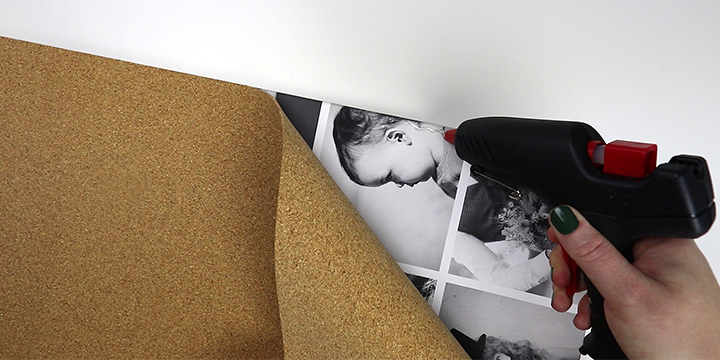 Start by gluing the cork to your canvas. The cork makes it easier to attach things to your board. Use a glue gun so that the cork attaches properly. For extra stability, attach several layers of cork.
2. Attach the fabric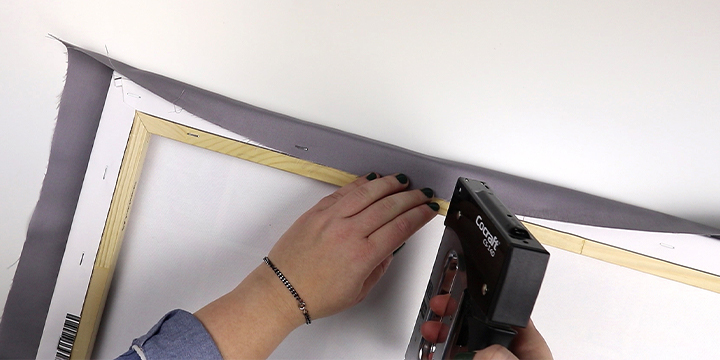 Now it's time to attach the fabric over your board. Make sure the fabric is well ironed for a smooth finish. Fold over the fabric and attach it with a staple gun to the wooden frame on the back of your canvas board.
3. Hang up your board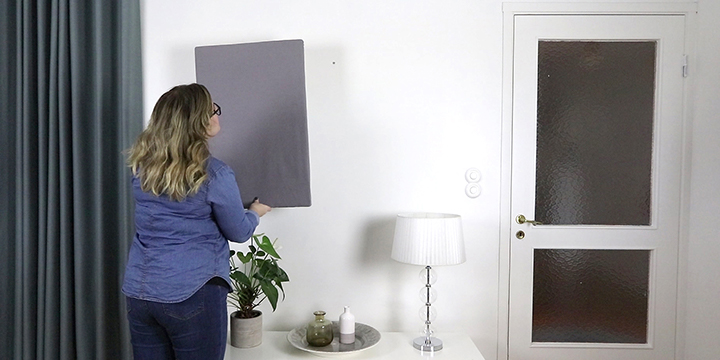 Your noticeboard is now ready to be hung. It's the perfect way to organise important papers or show off your best memories! The noticeboard makes a stylish detail for any room!
4. Fill your board with beautiful things!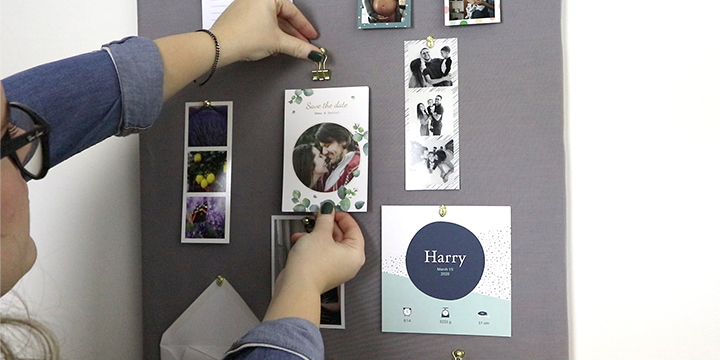 Now for the fun bit! Filling your board with beautiful things. We chose to fill our storage board with beautiful memories printed in various ways – everything from photo cards (why not hang the envelopes too – it's a perfect way to store receipts), photo strips, and lovely prints in mixed sizes.

Below is the full list of things we used to decorate our storage board.
Decorate your storage board with: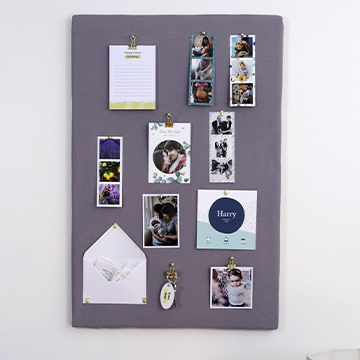 The best bit is that you can change the look of your board as often as you like! Just swap out the photos you choose to display!
Good luck and enjoy!