Making your own Christmas cards is both fun and easy, so let the present preparations begin! 🎅 This year's first DIY Christmas treat is this cute pop-up card that looks like a Christmas present 🎁. Just lift the lid on the present and out pops a cute little Santa, a family photo or a photo of your pet! Read our step-by-step guide to learn how to create this unique Christmas card. There's also a DIY video for a quick version of how to do it.
✂️ What you'll need: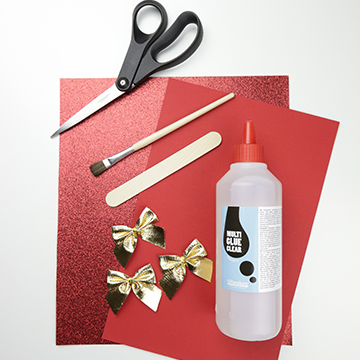 Card stock – two colours
Jumbo wooden craft stick
Pre-Tied tiny Satin Bows
Glue
Pencil
Pair of scissors
What to do:
1. Trace the pieces using our free printable template!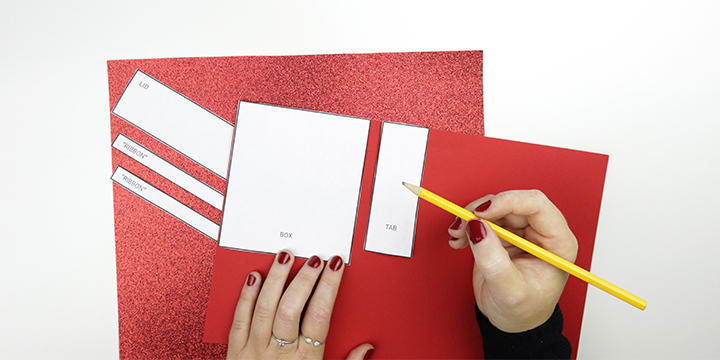 Start by marking out your pieces on the paper you have chosen. There's a free template to print out that you can download here. The "Box" and "tab" should be one color and the "lid" and "ribbon" the other.
2. Cut out the pieces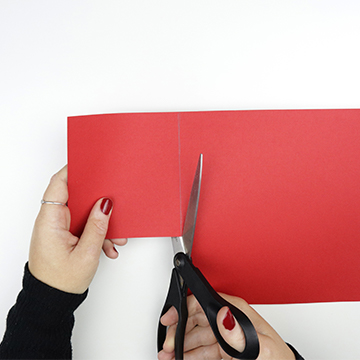 In this step, cut out all the pieces for your pop-up Christmas card carefully with scissors. Then, sort them into two piles according to color. Now the fun begins!
3. Glue the pieces as follows: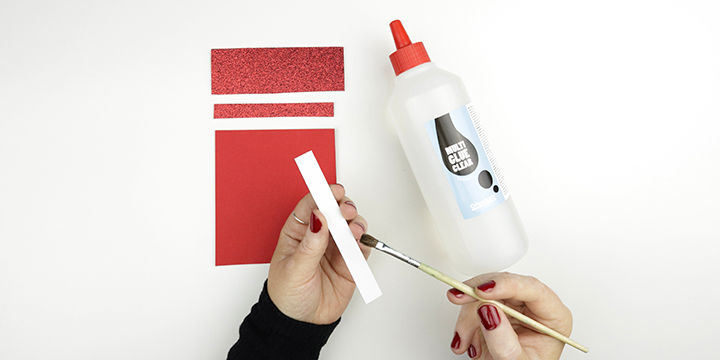 Start by gluing the pieces that are the present string. These are called "ribbon" in your template. It's best to use a good-quality universal glue so that there's no risk of the Christmas card falling to bits when the recipient opens it!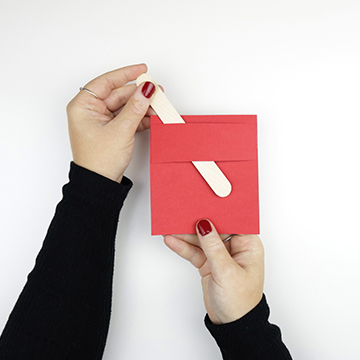 When your present 'strings' are in place, turn your card over so the back is facing you. Now glue the "tab" part at the top edge of the large part. It is very important that you only glue about 1 cm on each side so that you can thread your photo through the hole in the middle. As shown in the photo, the edges are stuck down and the middle is open and not glued.
4. Glue a photograph to the craft stick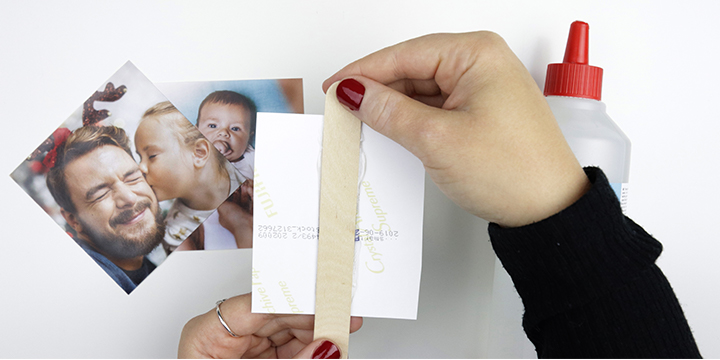 Now it's time to mount your chosen photo on the wooden stick. First, test that your photo fits through the "tab" on the back of your card. You may need to crop the width of your photo. Then, glue the photo to the craft stick with a small part protruding above your photo and a slightly larger part that protrudes at the bottom, as shown in the photo.
5. Attach the "lid" and parcel ribbon to your photo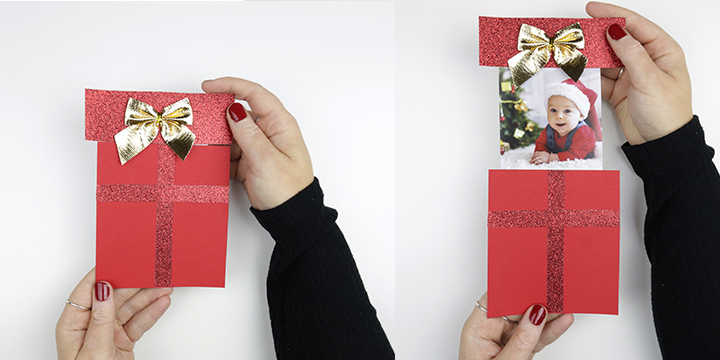 Attach the template "lid" to the top of the craft stick and photo. Make sure that all the stick is covered by the lid. Then, attach your gift wrapping bow. You may need to use a stronger glue for the bow to stick properly.
6. Assemble your pop-up Christmas card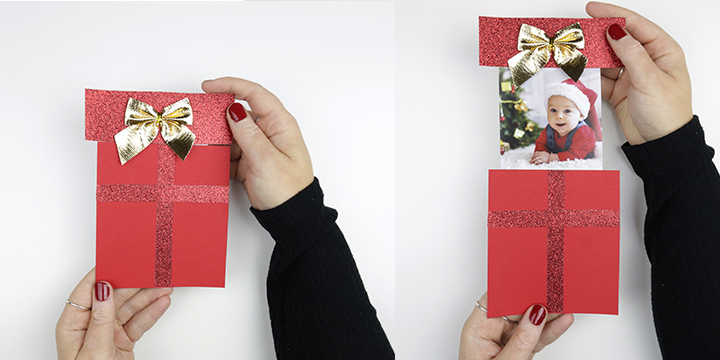 When all the parts are in place and all the glue has dried properly, it's finally time to assemble your Christmas card. Turn the "Christmas present" over and carefully thread the stick-mounted photo through the "tab". Then, by pulling the stick up and down, open and close the lid on the Christmas present. How did it turn out?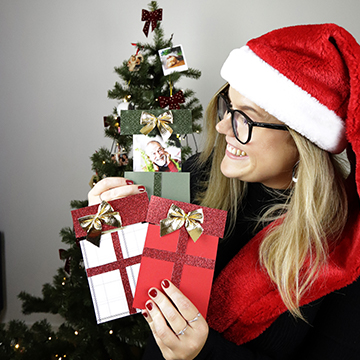 We hope you find this Christmas activity as much fun as we did! Try creating several different unique pop-up Christmas cards using different coloured paper or different photos.
Create Christmas cards from your photos!
This year, it feels extra important to be able to wish our loved ones a Merry Christmas. Maybe you won't be able to celebrate with everyone you want to? If that's the case, be sure to send a joyous Christmas card. There are several ways to create your own Christmas cards using your photos. The pop-up Christmas card is one way, but maybe you want to send more cards than you have time to make? Don't panic! We have a super simple way for you to create Christmas cards from your photos directly online quickly and easily. Below are some of our favourites, but you can see our entire Christmas card range here!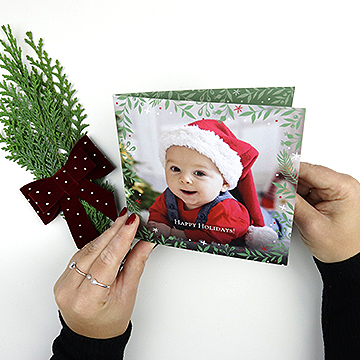 Folded Christmas cards
A stylish folded card that is available in landscape, portrait, or square (14.3 × 14.3 cm). Landscape and portrait cards are available in two different sizes: standard (14.3 × 10.0 cm) and panoramic (19.6 × 9.3 cm).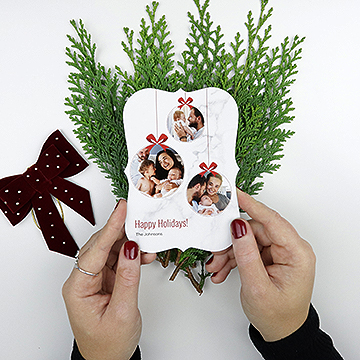 Christmas cards with creative shapes
Another exciting option is our creative shaped Christmas cards. Available in "brackets" (pictured here), "double rounded", and half rounded corners. Click here to see all the options. Available in both portrait and landscape formats.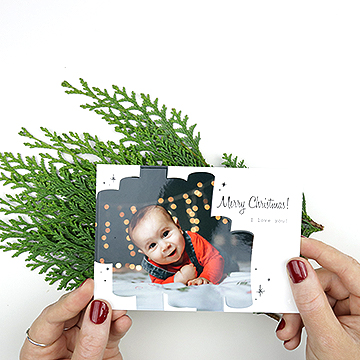 Glossy Christmas cards
An exciting Christmas card with varnished details on the front design that makes it sparkle under the light. Available in both portrait and landscape formats. You'll find all our Spot UV Christmas cards here.
Want to see more Christmas craft tips? We'd love it if you'd follow our YouTube channel and subscribe to the blog!
Good luck with your crafting!