We've created a fun DIY video on how to make your own Matching Game using photo labels. It's the perfect project if you're looking for fun things to do at home! We're now spending more time than ever indoors – so we should make the most of our home days together. Creating your own Matching Game is a great activity for the whole family! Watch our DIY video or read the entire step-by-step guide in this blog post. There's also tips on some of our other favourite games, such as card games and photo puzzles – don't miss it!
What you'll need:
What to do:
1. Create your own labels
Start by creating your own round labels online at smartphoto.co.uk. When you order our round labels you get 24 different stickers with two copies of each image (i.e., a total of 48 stickers). Which is perfect, because that's exactly what you need to create a photo Matching Game! Then you decide how hard you want your game to be. The more game pieces you have, the more difficult it is.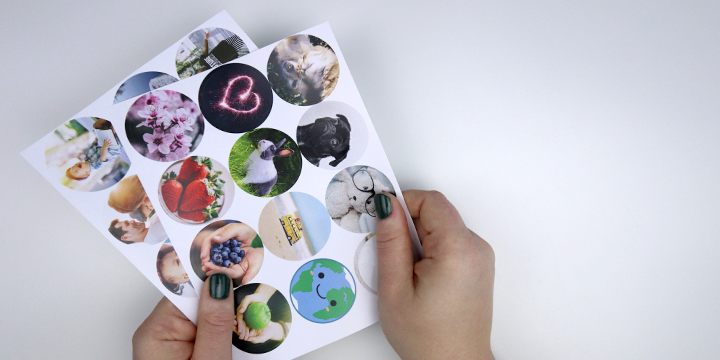 2. Prepare your wooden discs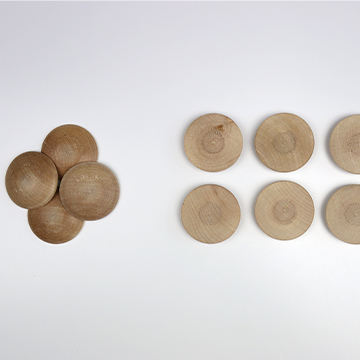 We used wooden discs with one rounded side. Start by turning all your discs flat-side-up. It is on this side that you attach your labels.

If you want to make them eye-catching, you can paint them any colour you like. Just make sure they're all exactly that same. Otherwise, it will be a very easy Matching Game!
3. Apply your photo labels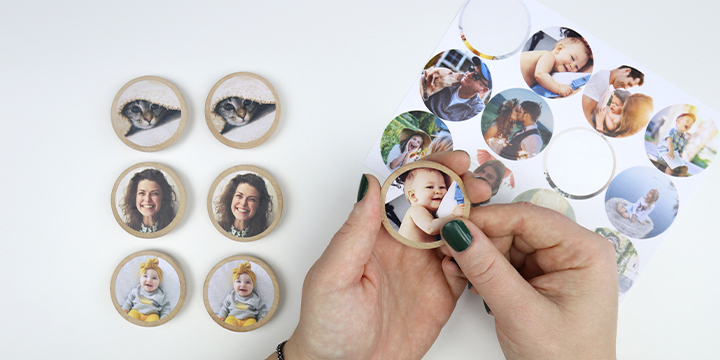 Then, you just attach your labels to the wooden discs. The labels come in sheets. You simply peel them from the sheet and stick them to your wooden discs. This is a fun step for the kids to do.
4. Varnish them and they'll last longer!
Applying a quick coat of varnish/PVA glue or similar over your labels will help them last longer and resist moisture.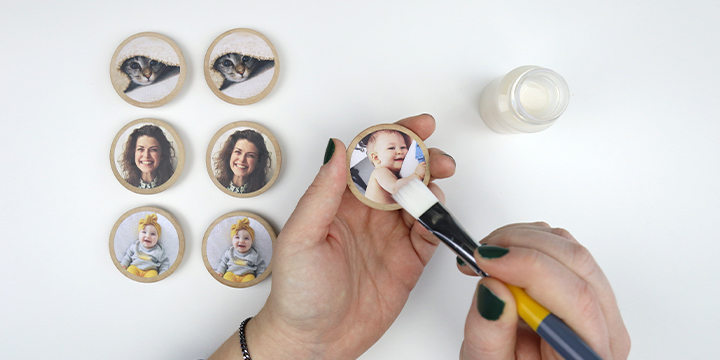 5. Store your game in a custom-designed tin
Another great tip is to decorate a tin storage box and use it as a beautiful storage box for your home-made game. Choose text or a photo for the lid of your tin. You'll find lots of great templates at Smartphoto.co.uk.

Now it's time to play! The best thing about this game is that it's very easy to adjust to the age of the players – just choose how many game tiles you want to have in the game!

Want to play the Matching Game but without the fuss? At Smartphoto.co.uk you can create two versions of the classic Memory Game online with your pictures. Choose from Memo Cards or Matching Game.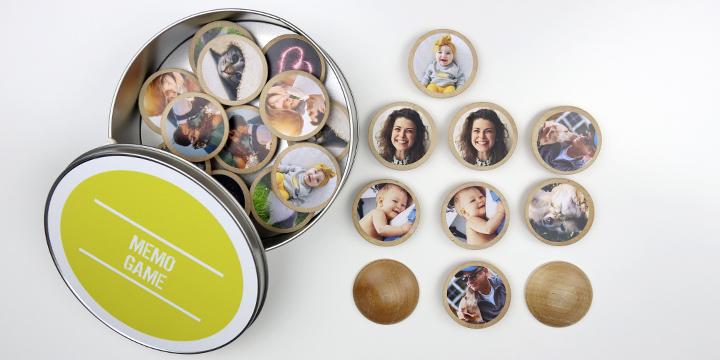 Extra tips: Our other game favourites!
Looking for more fun games? Did you know that on Smarthoto.co.uk you can create several different card games as well as puzzles using your photos? We have listed our three absolute favourites – but feel free to check out the full range of games here.
1. Personalised MyUno® cards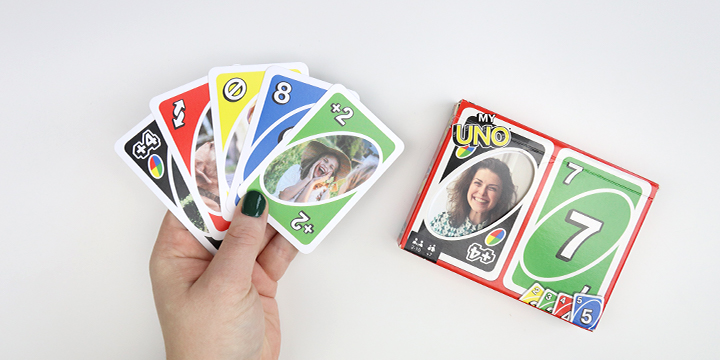 MyUno® is a classic card game for the whole family. Now you can create your own MyUNO® deck with your pictures! The game uses a total of 112 cards, of which 32 are personalised with your photos. Just choose five different photos for the game's event cards – one photo per card colour.

Unsure of the rules for playing MyUNO®? No problem – just click here to download them as a pdf.
2. Personalised playing cards.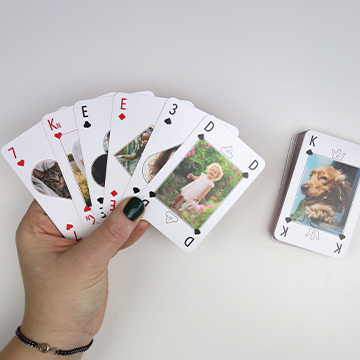 Classic card games are a long-standing favourite. But it's even more fun to play with pictures of yourself and the family. In this deck you can have seven different photos: one for each of the four suits, one for the jacks, one for the queens, and one for the kings.
3. Photo puzzle – as much fun for children as it is for adults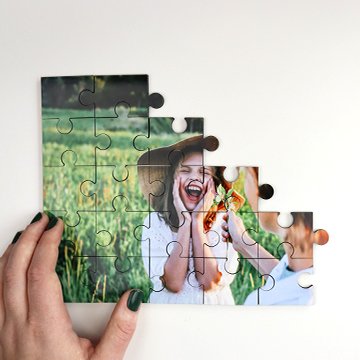 Puzzling is one of the best pastimes I know. Now imagine how much more fun it would be when the theme is people or places you love. At Smartphoto.co.uk, there are two variants of our puzzles. One for smaller kids with pieces made from mdf and one for brainboxes in thick paper.
We hope you enjoy some cosy time together and many wonderful hours of family fun.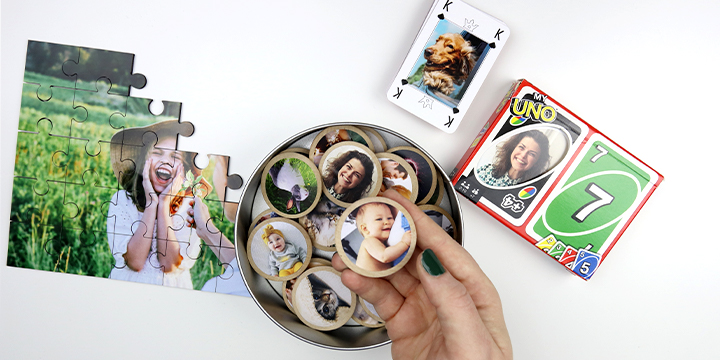 Good luck, and take care of each other!