A real favourite for many is the photo calendar. It's not only a perfect gift or Christmas present for grandparents, it's also an essential item for any busy family.
Did you know that there are lots of different features you can have in your Smartphoto calendar? This not only makes creating the calendar more fun, it also makes the result even more unique. In this post, we'll guide you through all the features and possibilities available when you create a photo calendar with Smartphoto!
Create a wonderful wall calendar!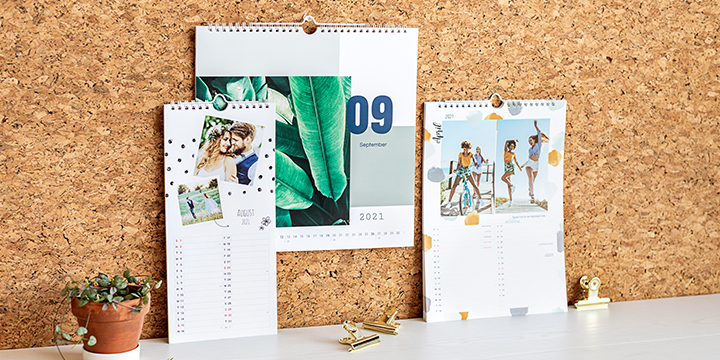 The wall calendar is a real favourite. They come in many different variations and sizes. The most popular is the A4 wall calendar, but you can find all the other options  here.
Here are some great features to be aware of when creating your wall calendar:
1. Choose the starting month yourself!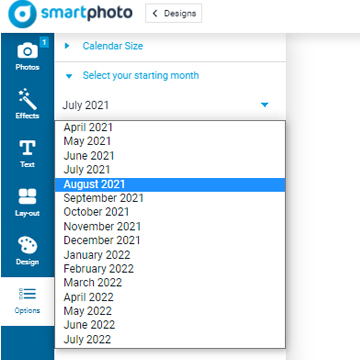 What month do you want your calendar to start with? Calendars don't have to start with January. September or any other month is just as good. You can change your starting month directly in the editor using the 'Options' menu.
2. Add your own important date reminders (e.g., birthdays, weddings, anniversaries)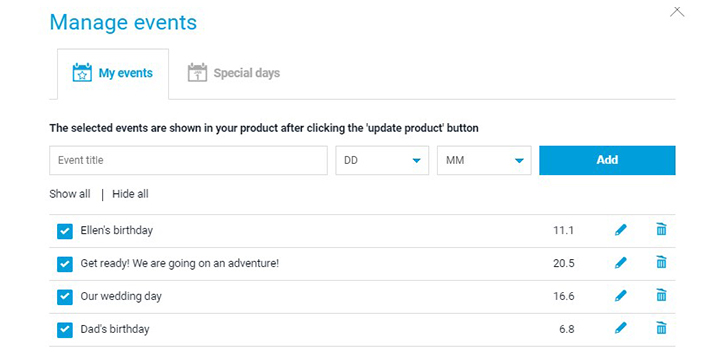 Remember the word "events"! It's a super smart feature that not only helps you remember your loved ones' special days, it also saves you a huge amount of time.
When you create your calendar, there is a yellow button on each page marked "events," click on that button and a new window will open. There you can choose to have general special days, such as saint days and holidays, on your calendar. But there is also the great feature "my events"! There, you can enter all the birthdays, anniversaries, and other important days that you want printed on your calendar. And best of all; your events are saved! So next time you want to create a calendar, they are already there. Just select the option to have them included.
Further down in this post, there are tips on how to use the 'My events' option to surprise whoever's getting the calendar as a gift. Don't miss
3. Change the background colours of the months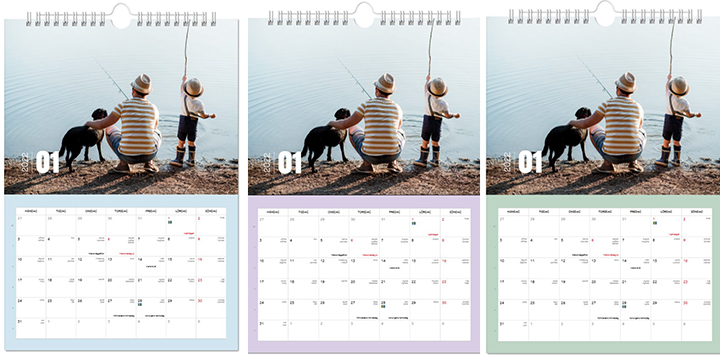 Who says a calendar must have the same background colour on each page? At Smartphoto, we don't think so! So, we let you select the background for each month of your calendar. In the menu, select "background", and then you'll see all the colour choices you have.
4. Change the design whenever you want!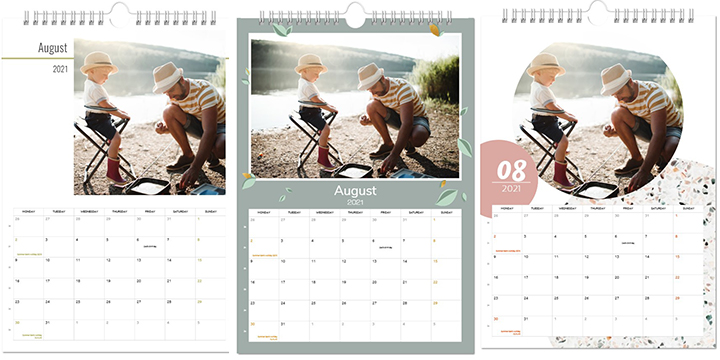 There are many great designs to choose from for your Smartphoto photo calendar. Sometimes it can be difficult to see the big picture before you start creating your calendar. So, it's great that you can use the editor to see which design you like best –even after you have placed all your pictures. You can change the design in the menu under 'design'.
5. How many photos do you want per month?
When you create your  calendar, you'll see suggestions for what your 12 calendar months might look like in terms of the number of photos per page. Of course, you can change this to exactly how you want it. Note that the number of images may differ between the different design options. Select the 'layout' menu and you'll see all the choices available for your design.
6. Create a Smartphoto account and you can save your calendar!
If you create an account on  smartphoto.co.uk (completely free of charge), you'll not only receive information about all the offers and news from Smartphoto, you can also save all the products you create and your uploaded images. This allows you to start your photo calendar and then save and continue another day. Or, you can make small changes to one saved product (perfect for making products individually adapted to grandma/grandpa or other friends and family).
A photo calendar as a gift or Christmas present – add a surprise!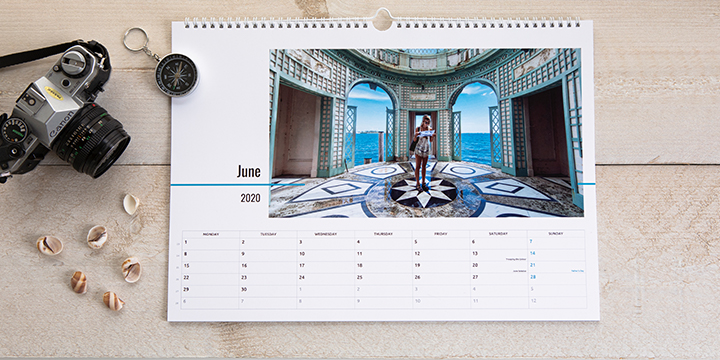 Are you giving a photo calendar as a gift or Christmas present? Then we have a fun tip for you! Use the 'My events' feature to add a surprise. (Learn how to add 'My events' above).
Maybe you know someone who deserves a little surprise from time to time throughout the year? Or why not give a calendar as a wedding gift where little surprises are hidden for the bride and groom. For example: "We are available for babysitting – book a table at your favourite restaurant!".
We hope this post gave you some useful information and ideas. You can read more about all Smartphoto's calendars on our website. If you want more help,  Smartphoto's customer service is always just an email or phone call away!
Have fun creating your calendar!
Need any more tips or help with any other features? Comment below and we'll make sure to update the post as soon as possible.