Step into Smartphoto's Christmas store and check out all the unique ways you can sprinkle yuletide magic around this festive season! Pamper yourself, your home, or someone you love with something special. At Smartphoto, you'll find everything you need for a personalased Christmas celebration. In this blog post, we've gathered all our Christmas favourites that we think will add that extra bit of Christmas magic! Explore Smartphoto's Christmas store and get ready for this year's festivities! Merry Christmas from all of us at Smartphoto!
Let's get Christmas started!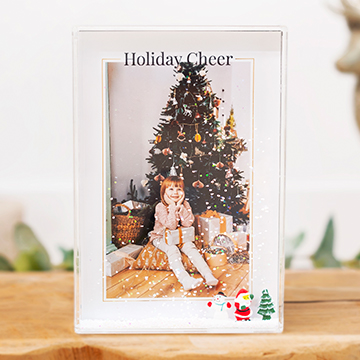 Magical photo frame with snowflakes!
We're approaching that magical time of year in leaps and bounds! So, here are some tips to brighten up your holidays with some personalised and unique Christmas decorations, like this amazing acrylic frame with glitter snowflakes that you'll find in Smartphoto's Christmas store. A little Santa Claus, a snowman, and a Christmas tree make it extra Christmassy. Choose your favourite picture and write your Christmas greetings. When you shake the frame, you'll be treated to a wonderful white Christmas.

Can't decide which image to put in your frame? No problem! It's super easy to change the photo, so you can switch between your favourites!
Create your frame here.



A Smartphoto Christmas favourite – the photo snow globe!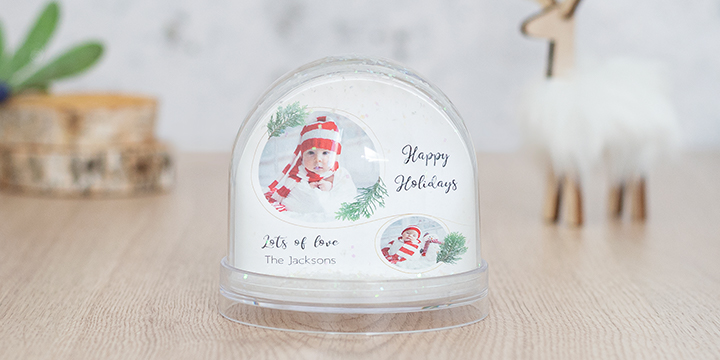 Shaking a snow globe and watching the snowflakes swirl around is classic Christmas feeling for both children and adults. In Smartphoto's Christmas store, you can make your snow globe extra magical with a photo of your loved ones. It's great fun as a gift or as a home decoration for yourself. Create your snow globe here.
When the cookie tin is so beautiful it becomes a kitchen centrepiece!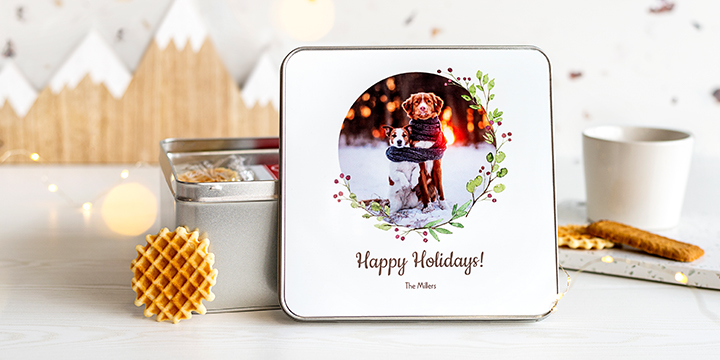 What could be more Christmassy than baking gingerbread? This year, you can make it a Christmas feature by storing it a beautiful tin with your choice of photo on the lid. Available in several sizes and shapes. Order your cookie tin here.
Fill your Christmas tree with memories with the help from Smartphoto's Christmas store!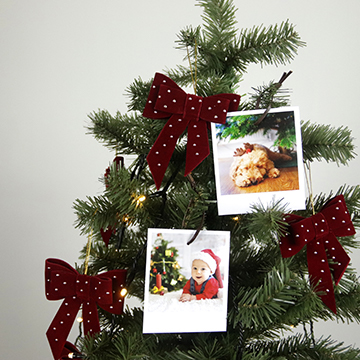 Make your tree extra special this year by decorating it with pictures of the people you love. Are you having guests for Christmas? Then we have a great tip for you! Create baubles or Christmas decorations with pictures of all your guests. Or, why not create some pictures and hang them on the tree? When it's time for them to go home, they can take their personalised decoration home as a memento. There are several different Christmas tree photo decorations to choose from in the Christmas shop.

Tip: Do you like to do crafts? Then we have the best tips for you in this blog post.
New in Smartphoto's Christmas store– Personalised Christmas baubles!
Order your personalised Christmas baubles from Smartphoto! Available in three variants: Ceramic white and all-new gold or red plastic. The photos come as stickers that are easily applied to the flat surface of the bauble.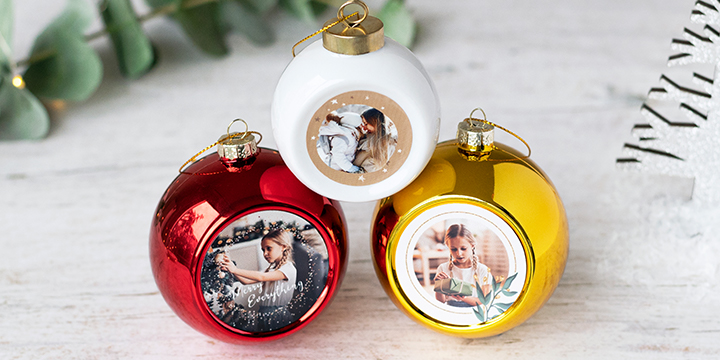 Wooden Christmas ornaments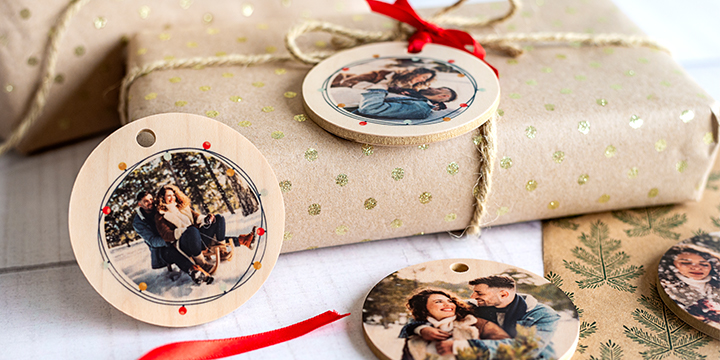 Now here's a real favourite. How about decorating your Christmas tree with beautiful wooden ornaments? You can even use them as a super-classy label for a Christmas gift! They come in sets of four, and you can have a different image on each one! There are round or hexagonal variants, and they're made of MDF maple veneer (FSC certified). Order yours here.
🎁 Make Christmas gifts of moments together ❤️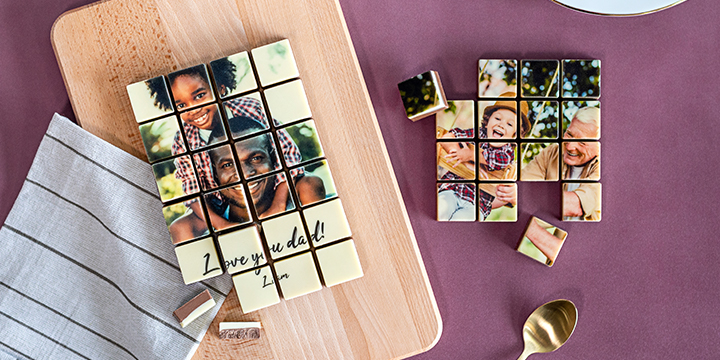 The tastiest new product of the year – chocolate with a photo!
What could be better than getting a Christmas present decorated with a shared moment? Well, here's an idea; why not skip the traditional chocolate box this year? We're not saying you should skip chocolate, of course; that would be madness! Chocolate and Christmas are made for each other. But this year, you could surprise someone with a gift that's so much more than just chocolate! How about some lovely Belgian chocks where every piece is part of a photo? Discover the tastiest new products of the year here.
Photo puzzle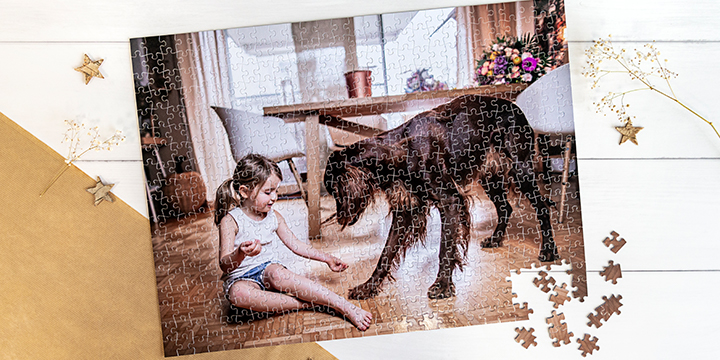 What better gift than a photo puzzle that you can solve together on Christmas day? You can find all of Smartphoto's photo puzzles here.
For the most beautiful Christmas presents!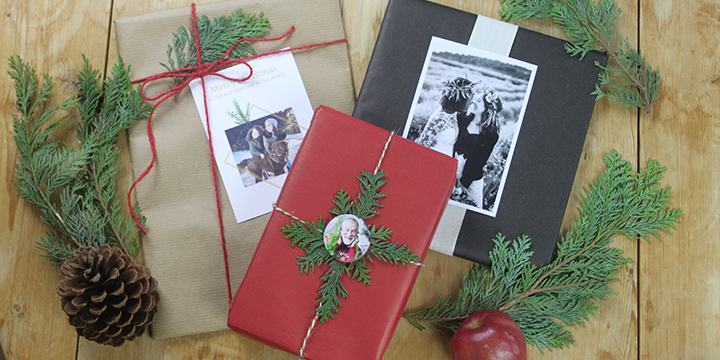 Isn't it so much more fun to get (or give) a Christmas present if it's beautifully wrapped? Decorate this year's Christmas gifts with a personal photo, sticker or beautiful Christmas card!
Want to know how to wrap the most beautiful Christmas presents? Read this blog post.
Want to see more of Smarphoto's Christmas range? Click here.