Are you looking for a gift for a new-born? Is there a new family member on the way for you or one of your friends? Such fun! Celebrating a new-born baby is the best thing there is! Not least because it is a perfect opportunity to shop for baby clothes and other cute gifts. In this blog post, we share our 7 best gift ideas for new-borns that are both personal and unique.
1. The very first baby pictures in a beautiful box!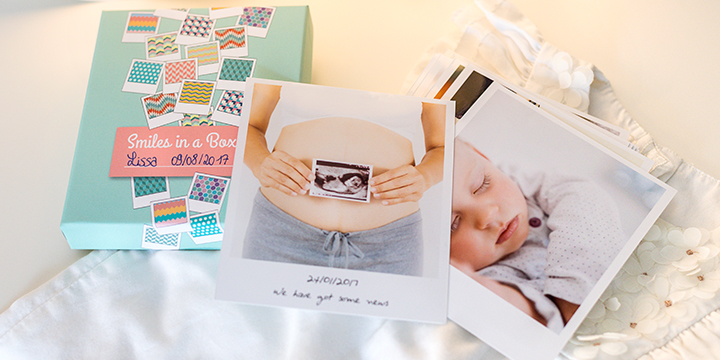 Have the expectant parents sent you pictures of the bump, preparations they've made, pictures of the children's room and so on? Develop all the pictures by ordering prints in a box and give them as a gift. You'll get lovely photos (with a caption of your choice, if you like) on quality photo paper presented in a nice box. A wonderful gift to give to expectant parents.
Tips: Did you also get the first ultrasound picture of the baby sent to you? You could include that, too.
If you want to make the gift even better, you could add a gift card so the parents can develop their very first pictures of baby when they return home. It will definitely be appreciated.
2. An addition to the family? Celebrate with a name plate!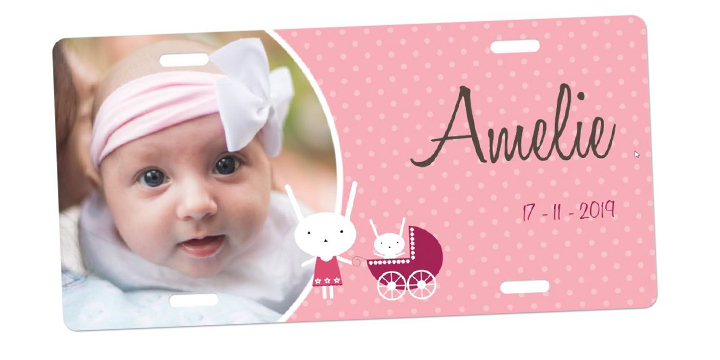 Baby on the way? Is your sister, best friend, or neighbour expecting the pitter-patter of tiny feet? Why not make them a personal name plate for their new addition? Or maybe a name plate for baby's room with their date of birth on it. The sign can also be used as a wall decoration with a cute quote for families with small children, such as "Tired parents and a happy kid live here!"
3. A baby onesie with your choice of text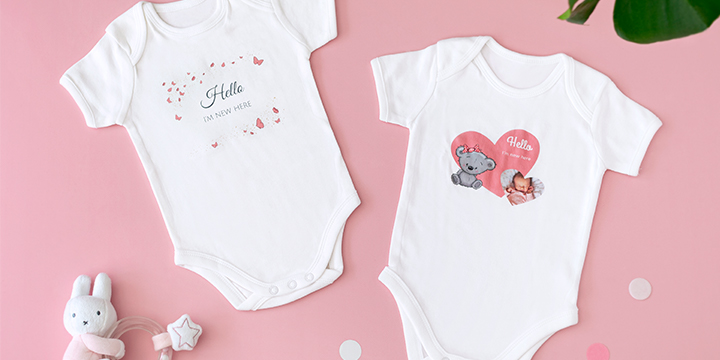 A perfect gift for a baby is of course baby clothes. But it's much more fun if you create a completely unique personalised bodysuit. Add your personal touch by adding a photo, text, or a cute illustration. Choose a stylish design or get creative and start from a blank design to make it even more unique.
Some ideas for creating a customised bodysiut for the baby:
Write the baby's date of birth together with a sweet quote:
"Totally adorable since 22.01.2021″
Compliment the parents:
"I have the best parents in the world!"
A fun quote that includes yourself:
"If you think I'm cute you should see my auntie"
A nod to the grandparents:
"If mum says no, I'll ask grandma!""
A 'quote' from the baby themselves:
"I'm in charge in this house"
Joking with dad:
"I'm the proof that daddy doesn't just play video games!"
4. Preserve those precious first photos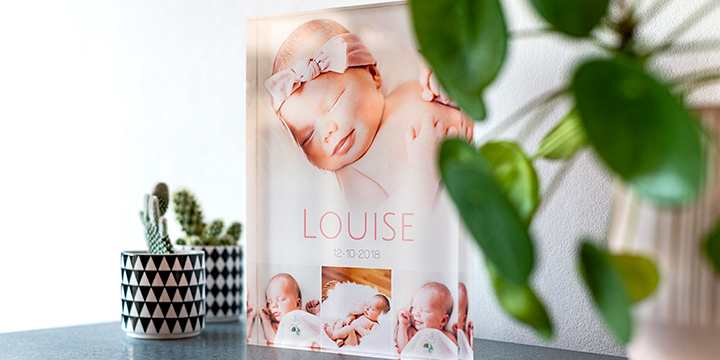 A beautiful photo block makes a great gift for the parents. The very first pictures of baby will always be very special for the parents. Give them the photos printed on an acrylic photo block as a gift to celebrate the new arrival! You can also print photos on a wooden photo block. A super stylish and personal gift idea!
5. A cushion for mom and dad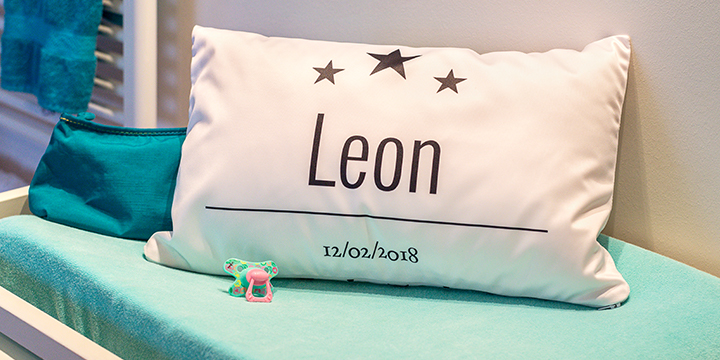 A soft cushion is a great thing to have during those first months with a new baby. For example, it can be used to support the baby, as an armrest when breastfeeding, or simply to add a beautiful and personal touch to the baby's room. Smartphoto has photo cushions, in many different shapes, like rectangular, square, and heart-shaped. Choose a beautiful photo and a fun colour or a design that fits with the nursery's decor.
6. A soft hooded baby towel – for those first baths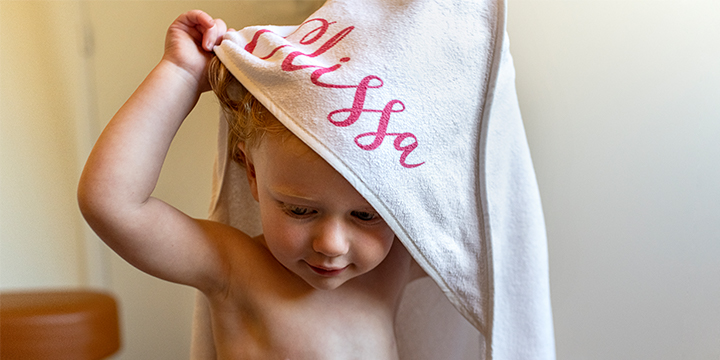 Another great gift for a new-born is a hooded baby towel. This personalised baby cape has a soft cotton lining that's super-comfortable for baby's skin. With the baby towel, baby will be warm and dry in a flash. The soft personalised hood fits perfectly on the baby's head. The best bit is that when the baby gets a bit older, the towel can easily turn into a superhero cape!
7. Give a unique customised baby bib as a present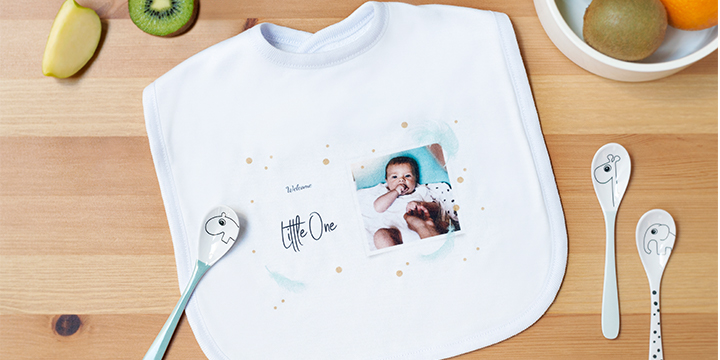 Another fun and original gift for a new-born is a baby bib with their name and photo on it. What image and text would you choose for yours? The bib comes in a soft fabric and is perfect for when it's time to try solids. It's also a great way to protect baby's clothes when their teeth start to come in and the drool starts to flow!
Have you got any of your own gift tips? Share them with us!
What are your best baby gift ideas? We'd love to know what gifts for newborns you've created. Please share your best tips by commenting on this blog post or by tagging us on Instagram. At #mysmartphoto you'll also see what other people have created from their photos.
Need even more inspiration? Check out our page of gifts for baby.
Follow us for more tips, craft ideas, and inspiration: