Those 2 little lines on a home pregnancy test give you a rush of happiness like no other, and it's almost as exciting for the expectant grandparents and everyone else that's close to you. As a pregnant woman, you might want to surprise your partner by telling them the news in a creative way. Luckily, there are lots of fun and creative ideas on how to reveal the big news. We have listed our top 7 ideas in this blog post. Do you have other suggestions? Feel free to leave a comment!
1. Serve morning coffee in a magic mug with a big surprise!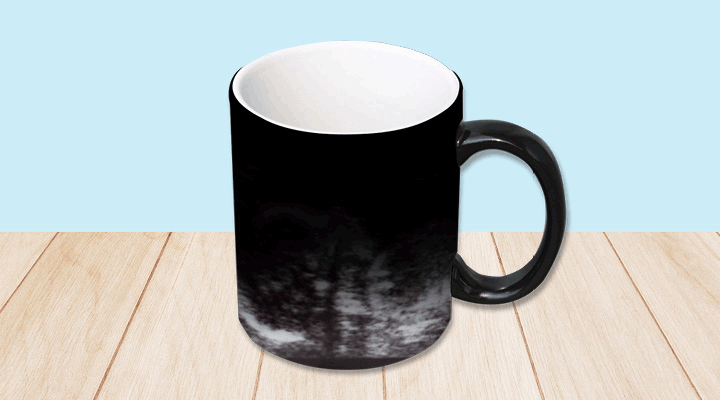 Your significant other will really wake up when you tell them you're pregnant over breakfast! A magic mug is an incredibly fun way to announce any news, but especially news as good as this!
The magic of this mug is that it is completely black until you pour hot liquid into it. Then, your picture slowly appears on the mug. An incredibly fun way to reveal that you're expecting a baby. Put your ultrasound image on the mug, and maybe some text. What about "You're going to be a dad!" or "Hello daddy, see you in January!"
Of course, this method works just as well for future grandparents with the text "Congratulations on becoming a grandmother!" or perhaps "The world's best grandfathe
2. When the wine has to wait!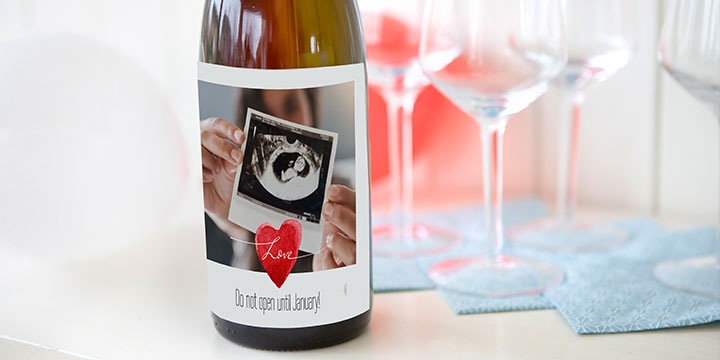 This is an idea that will work for everyone, from your partner to your best friends or parents. Invite them to a cosy evening at your home. When it's time to refill the glasses, use a wine bottle with a self-designed bottle label showing your ultrasound image and the text:
"Not to be opened until January 2022!"
Or you could create some engraved glasses where the mum-to-be says:
"Do not refill before January 2022!"
It will be great fun to see how long it takes for the penny to drop, but you'll have to play it cool to not spoil the surprise!
3. A dinner with a completely unique table setting!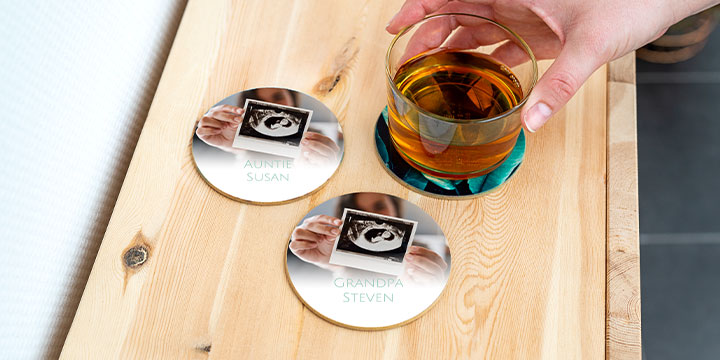 Invite family and friends to a dinner and make sure to have table placement cards, even though it's a small and relaxed event. But instead of writing their usual names, instead write Grandma, Grandpa, and Aunty, for example, on the placements. They'll get the idea pretty quickly! There are several ways to make stylish and personal table placements (see below). You could make it extra fun by creating personalised coasters that guests can then take home, such as these cork ones or these round ones.Tips: Other ways to create personalised placements: Prints in a box, placement cards, decorative stickers, luxury photo prints.
4. A baby bodysuit with a greeting from the baby!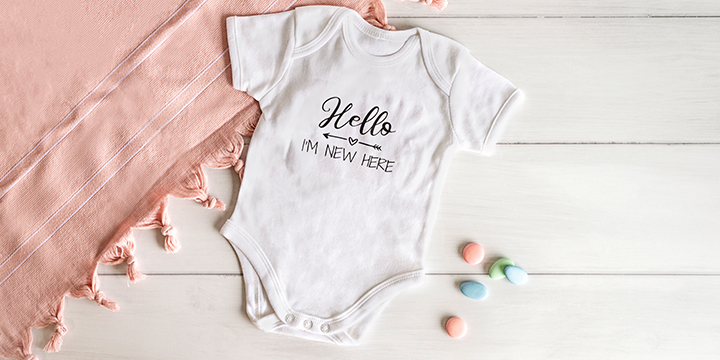 Give a package containing a small baby onesie to the future grandmother and grandfather (or someone else who is close to you). Insert a small card in the package that says:
Hi grandma and grandad! Would you please keep this bodysuit with you? It will be good to have an extra when I come and visit you. See you in January!
Tips: This will work just as well with this bib or hooded baby towel for lovely evening baths.
5. Let the guests reveal the exciting news themselves!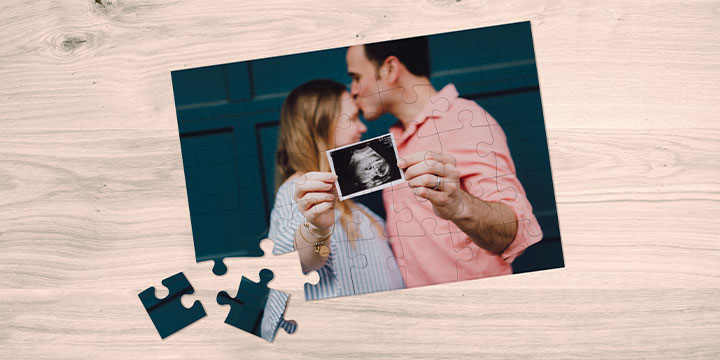 Invite loved ones to a cosy games evening and tell them that you need help doing a jigsaw puzzle. You can decide how long it will take before the news is revealed by creating a unique photo puzzle with anything from 24 to 500 pieces. Use a photo where you're holding an ultrasound image. The smaller the part of the photo that the ultrasound image occupies, the longer it will take before the guests get the big news! So fun and exciting!
6. Send a postcard from the baby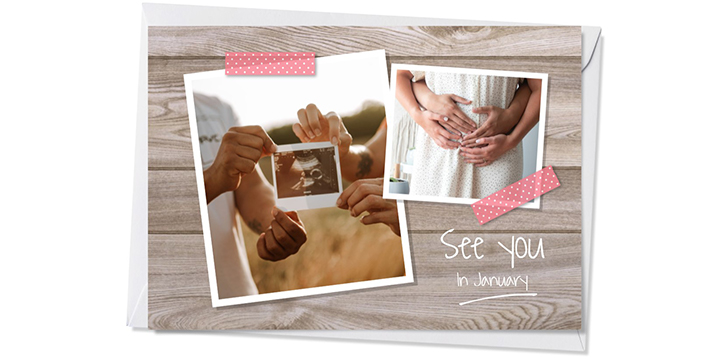 Do you live far from your family but still want to tell them you're pregnant in a creative and unique way? Send a classic photo card from the baby to the whole family with the text: "See you in January!". On the back of the card you can write a little greeting where the baby says

Hello grandma and grandpa!
Here's a little greeting from me. I've haven't had time to look around the world yet, but my mother takes me around, and I can hear that it's very nice out there. See you in January!
7. Tell the future big brother or sister with the help of a sweater..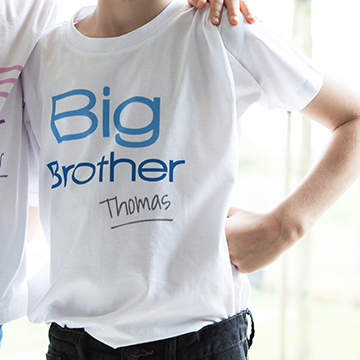 If you're expecting your second child, it's a wonderful family moment when you let the future big brother or sister know that you're pregnant. Print the text "big brother" on a t-shirt or sweater and invite family and friends round. It'll be exciting to see who's first to realise that you're pregnant!
How did you tell people that you were pregnant? Give us your best ideas in the comments below.
Also read:
Gifts for newborns – 7 adorable and personal gifts for baby and their parents!