New products from Smartphoto! Over the summer we have been busy adding lots of great new items to our website. How about a photo frame with summer sand in it, a super-roomy shopping bag or a gorgeous and practical enamel mug? Perfect now that your camera is full of wonderful summer memories! If you are looking for fun ways to develop your holiday photos, here are 10 tips you just have to see!
1. Bring a piece of the beach home!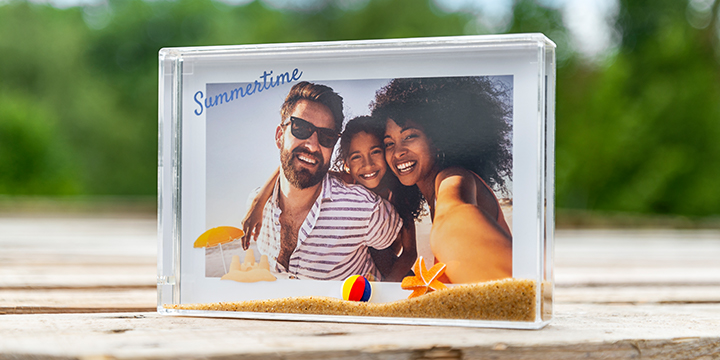 Our photo frame with sand is a fun and unique way to frame your favourite summer photo. When you buy the frame, the picture is also included, but you can easily replace it whenever you want. The picture is 10 × 15 cm. The frame contains a clear liquid, sand, a beach ball and a starfish. When you shake the frame, the sand swirls around (a bit like the classic snow globe).
2. News from Smartphoto – Our soft toys have got two new friends!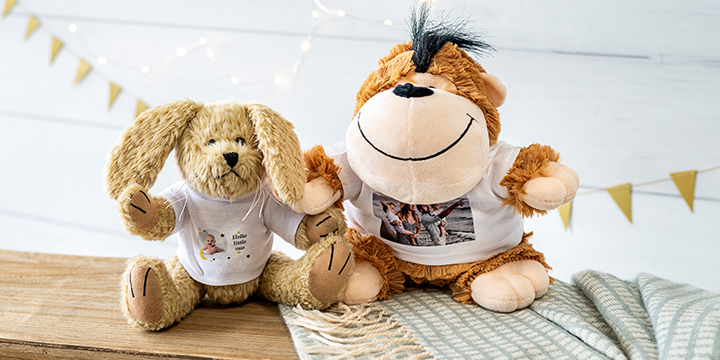 Now the giraffe, the cow, the teddy bear and the sheep have made two new friends. The cute rabbit and the cheeky monkey are this year's newest members of our stuffed animal gang! These cuddly toys come with a cute little t-shirt that you can put your own image and text on.
3. Hexagonal tile gallery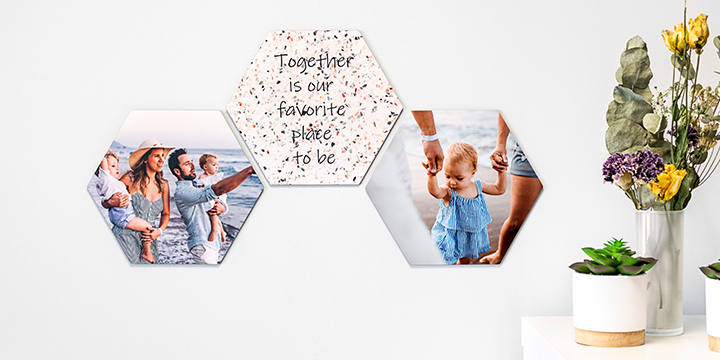 Fancy a photo wall? Here's an exciting new way to develop your photos and create a great gallery with hexagonal aluminium photo tiles. Just get one, or go all out and create a gallery with up to 8
4. Shopping bag – So much room!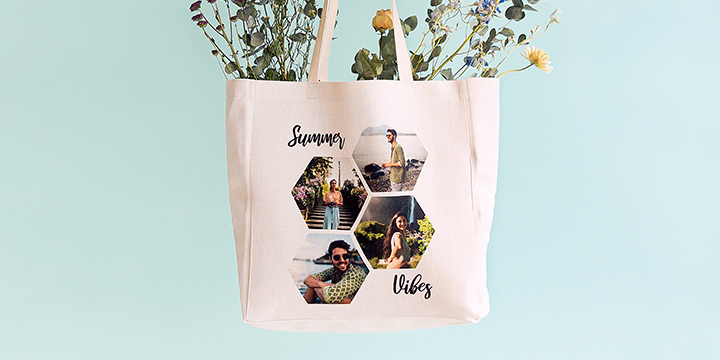 Our ever-popular tote bag now has a big sister in the super-spacious shopping bag! It has a sturdy woven design that is both soft and durable. You can have both text and photos on your bag. You can also choose whether to have print on just one side or on both.
5. A perfect gift – a bottle of fizz (or not) in a beautiful box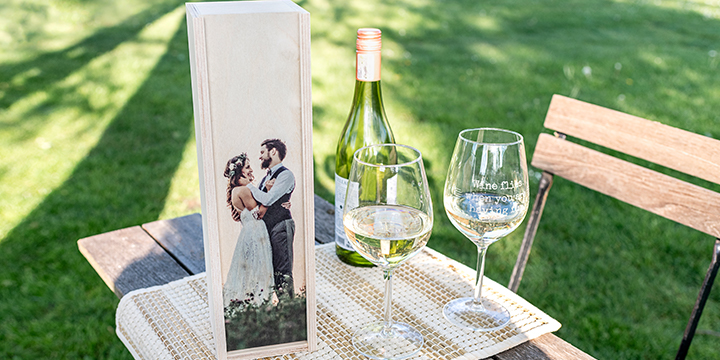 Whether you're gifting a bottle of homemade juice or a good wine, this wooden box is perfect! It's made of FSC-certified birch, and the image is printed directly on the box, so that the structure of the wood is beautifully visible through your photo
6. New from Smartphoto – steel water bottle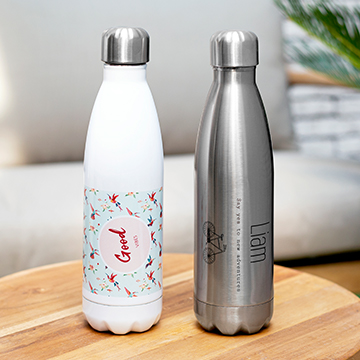 Our popular white stainless steel drink bottle has now got a sleek silver buddy with a modern look that shows off its steely exterior. Perfect for hot days as it has double walls that keep your drink cold for up to 24 hours. It also works as a thermos and can keep a hot drink warm for up to 12 hours.
7. For tea and coffee lovers!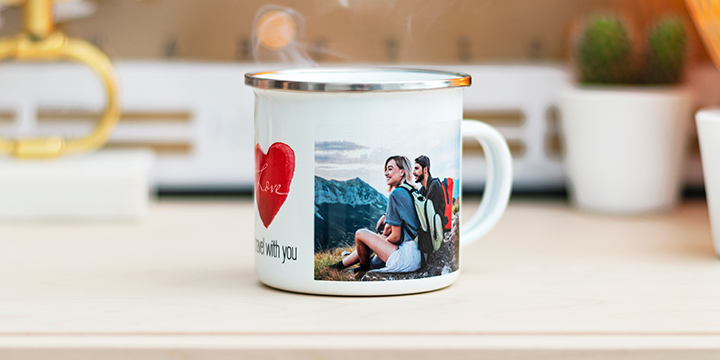 This gorgeous enamel mug is just as perfect at your breakfast table as at the picnic, camping or in your bag for your favourite take-away coffee! Drink your coffee in style from a durable enamel mug and at the same time help the environment by ditching those disposable take-away cups – win-win, we think!
8. Lunch box with a bamboo lid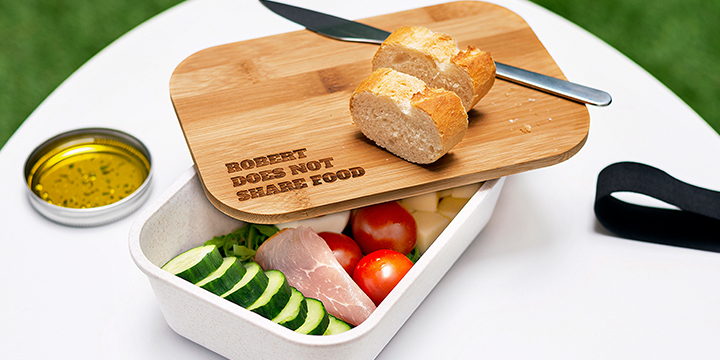 Another new sustainable product from Smartphoto. A stylish lunch box with a bamboo lid engraved with your name (no more lunch box mix-ups at work) or any quote you like. Why not start a new habit? Take your lunch box to the take-away counter and ask them to put your food directly into it instead of using their disposable containers
9. Hooded baby towel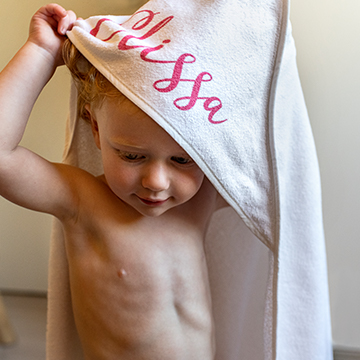 We also have a soft new product for the little ones. An OEKO-TEX standard 100 certified hooded baby towel. Personalise the hood with a name, picture or both. Lovely and cosy for those post bath cuddles.
10. Your summer memories in beautiful wooden photo holders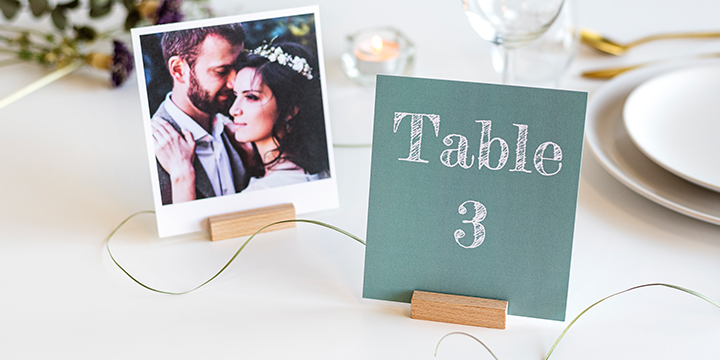 And finally, a great new little item from Smartphoto – wooden photo holders – perfect as an interior detail at home or as a table feature at a wedding or other occasion. You get a set of 12 pictures and 12 small stylish wooden holders.
This is just a small selection of all the new items we've added to our webshop. For even more, visit the "new products" page.