Easter is nearly here! A holiday that (in our opinion) gets far too little attention. Start preparing now by doing some Easter art and crafts! In this blog post you'll find simple and creative craft ideas. For example, make egg-themed place cards and decorate your table in a fun and unique way. Get inspiration here and learn how to create Easter crafts and decorations with your own photos!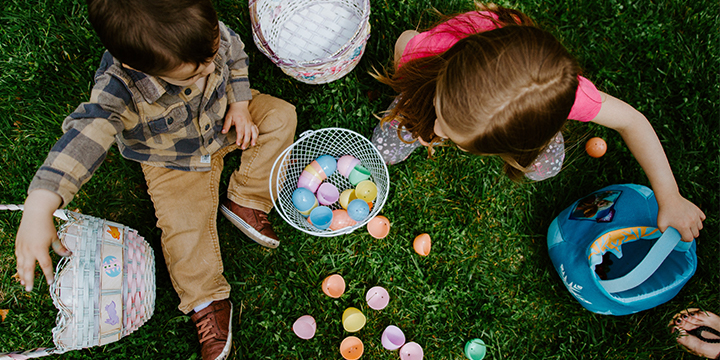 We love Easter and all that it entails: painting eggs, egg hunting, dressing up, eating good food and, above all, extra free-time together. Also, Easter is the turning point between winter and spring, so we have every reason to celebrate! We've put together a list of wonderful tips on how you can make this Easter a little more festive by crafting and decorating with your own pictures. Here's some inspiration for a totally unique Easter!
1. Fun personalised Greetings Cards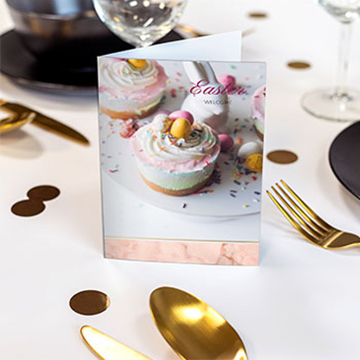 Receiving a letter in the mail (that's not a bill or insurance statement) is still something very special. Send a homemade greeting card to the ones you love. Create your card by using one of our yellow designs that you'll find here or use a lovely Easter image to cover the entire card. If you're good at creating your own designs, you can create your own card here.
When you order photo cards you also get white envelopes with them, so just buy some stamps and write the address, and everything is ready to go! Very easy to make and great fun to receive!
2. Placemats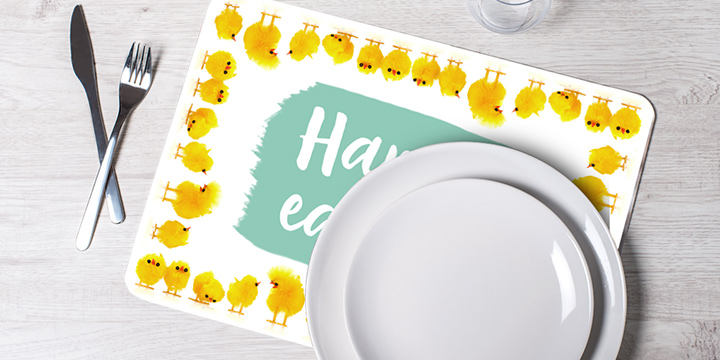 Do you want to make your table setting for Easter both personalised and in the Easter theme? Choose a favourite Easter-themed picture and order some personalised placemats. Use them for breakfast with the kids or as part of the table setting for dinner. Works perfectly for both! There are two different styles to choose from. Do you like the idea but don't want to spend too much? Then make paper placemats! You can get 24 paper placemats! If you'd rather invest in something sustainable that you can also use next Easter, you can create plastic placemats.
3. The right person in the right place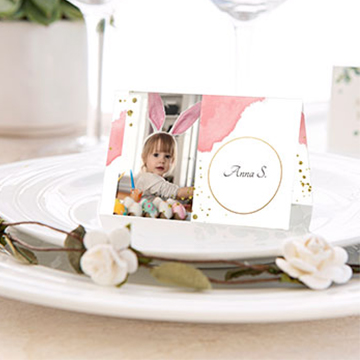 Even if you won't have guests for this year's Easter dinner it's always fun to make table place cards. With a fun Easter design, the place cards can also be part of the table setting. You can either make classic foldable place cards to stand next to the glasses or cards that sit directly on the plates or with the napkins. Write names and use fun photos of your family.
4. Easter place cards, but with eggs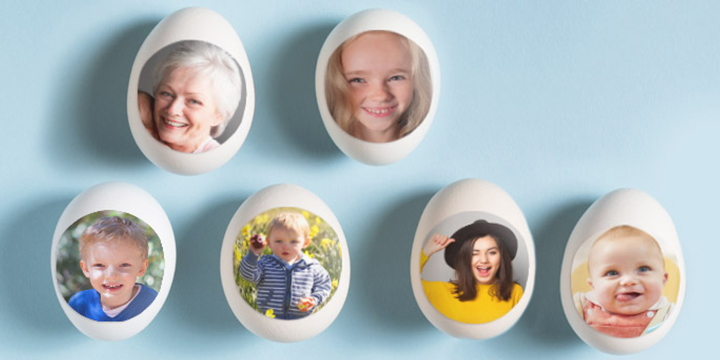 Do you want to do table place cards but in a fun and different way? Use eggs to show who is going to sit where! Choose fun pictures of everyone in your family and use them to make round labels. Put the labels on eggs and set them out as table place cards. It's a bit tricky to attach a label to an egg, and there will be some creases (or you could cut small incisions into your labels), but it will look funny with all the eggheads on the plates or standing in egg cups!
5. Set the table easily with napkin rings!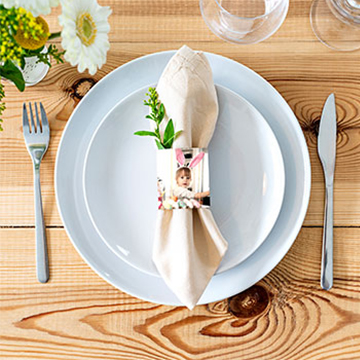 A super easy way to bring the Easter feeling to the table setting. Create your own Easter napkin rings by adding your own Easter photo to it. With an added flower it will look beautiful and give you that spring feeling.
6. Coasters for every occasion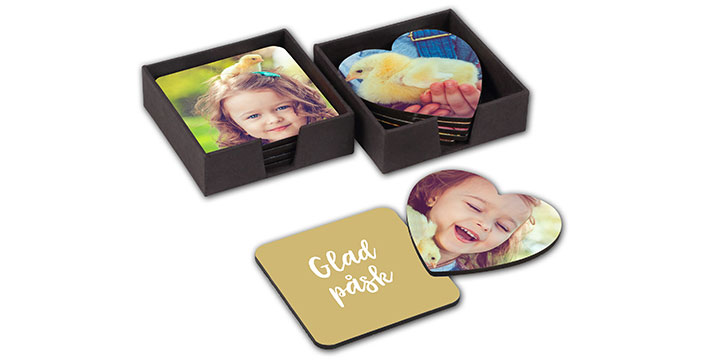 Do you want to avoid marks on your table? Then these coasters are perfect for you. Order coasters that you can use year after year. And why not put a picture of each family member on a different coaster? When you order, you get 6 coasters in each package. You can have a different design on each one or have them all the same. Choose what suits you best!
7. The Easter bunny brings memo game cards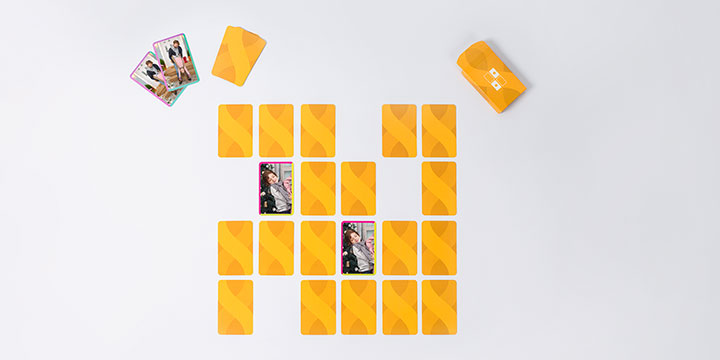 The Easter bunny always leaves a chocolate egg which keeps the children happy and energetic (maybe too energetic?). Do you wish the bunny could come up with something else fun instead of chocolate? Maybe a gift instead! Personalised memo cards are perfect! Or maybe something else from our range of personalised games that can be made unique for each child. Good (healthy) fun! Check out all our personalised games here for inspiration!
8. Square "Instagram pictures" for the Easter centerpiece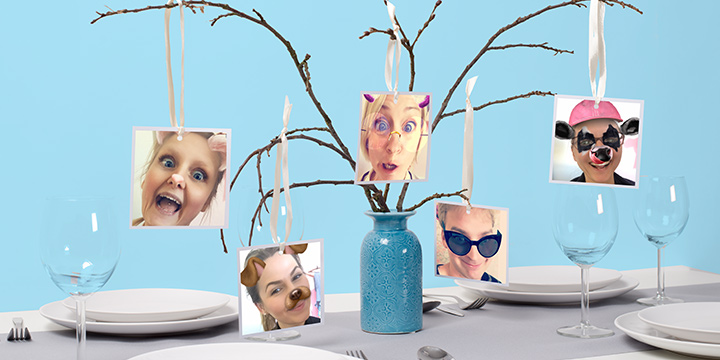 Mix feathers with pictures and get the perfect Easter centrepiece. Our square prints are exactly the right size, and it's great fun to have an Easter centrepiece full of pictures of all the guests. You can even add white borders to the pictures to get a nice framing effect at no extra cost.
We wish you a happy Easter from everyone at Smartphoto!Psst! We love creative solutions and fun ideas.
Feel free to share yours, either as a comment below, or tag us on Instagram @smartphoto.co.uk