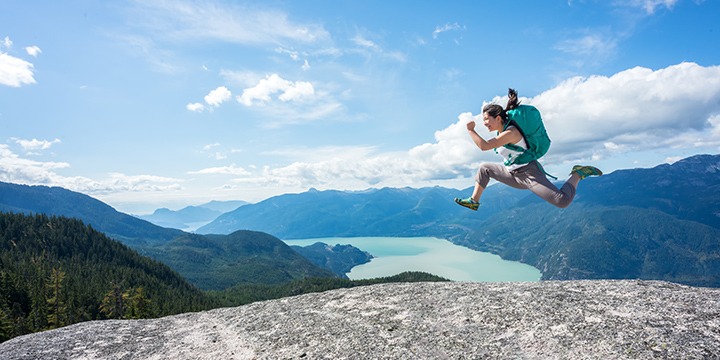 The globetrotters and backpackers among us will recognise the problem: while travelling, it feels like the sky's the limit. You're open to the highs and lows and at the end of your adventure, you board the plane home, a whole new person. With a backpack full of beautiful impressions and memories. But … once you're back home, you have to confront the harsh reality of your real life. Gulp.
Fortunately, there's more to life than travels. Having a warm place to call home is at least as important! So, what if you could combine both by incorporating all your beautiful photos into a creative wall decoration?
Below, I'll offer some ideas for wall decoration for globetrotters and backpackers to create an interior that combines a cosy, homey vibe with your amazing travel stories. They not only make excellent interior design ideas, but it's also just fun to stop and daydream a little each day when you see them.
1. DIY map with vintage prints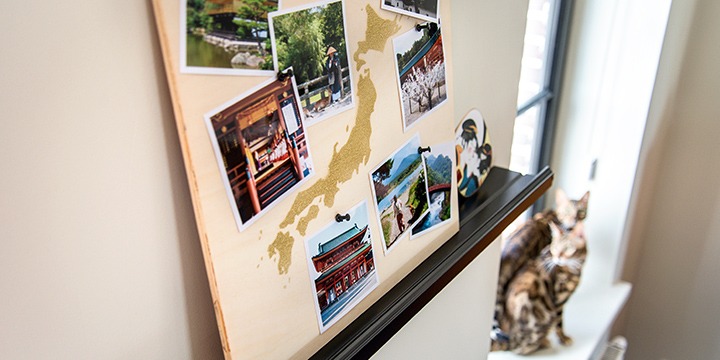 Let's dive right in with my personal favourite: the home-made map surrounded by prints.
A world map poster is nice, but not very original and it can also easily dominate your interior. And let's be honest: even if you're a dedicated backpacker, you have probably only seen a small part of what's on the map. So why not zoom in on the country where you've travelled extensively?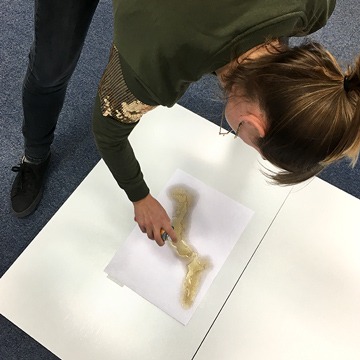 To make it, print the map of the country in A3-format and make sure you've got your hobby knife handy. Try to cut the paper along the borders of the country as accurately as possible: the more detail, the better the result will look.
Then, with paint, stencil the shape of the country on a wooden panel or corkboard. You can also use sparkly golden spray paint, but then you should be sure to carefully cover the edges of the panel.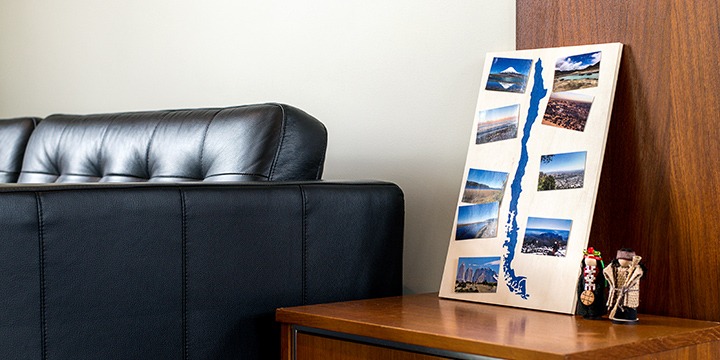 Now, order prints (or, as in the example on the photo, reception cards*) of your best travel pictures and pin them around the map. If you like, you can use string or a felt-tip pen to mark the places where the photos were taken.
* Once in the shopping cart, reduce the quantity from 10 pieces to 1.
2. Travel signposts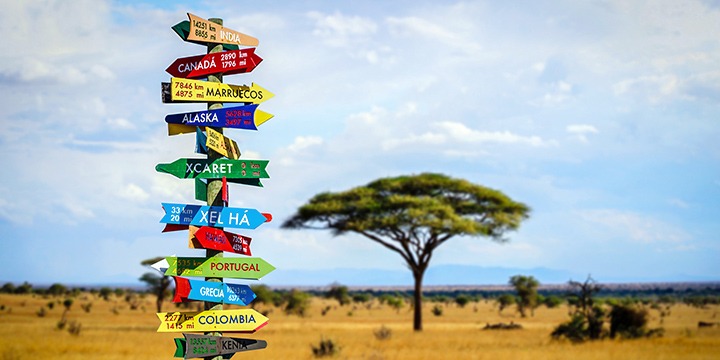 Something you often see on the street when on long haul holidays are signposts with arrows showing the distance to various landmarks. Why not reproduce this idea inside your living room as wall decoration! To do this, use our name plate, which is available in different colours. It's up to you whether you use places you've been or places that are still on your bucket list.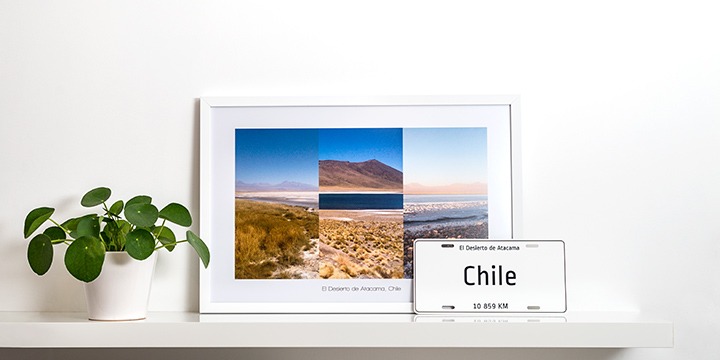 If you decide to use places you've been, then you can place framed photos or posters on a narrow shelf on the wall and put the name plate just in front of it.
3. Souvenirs in the spotlight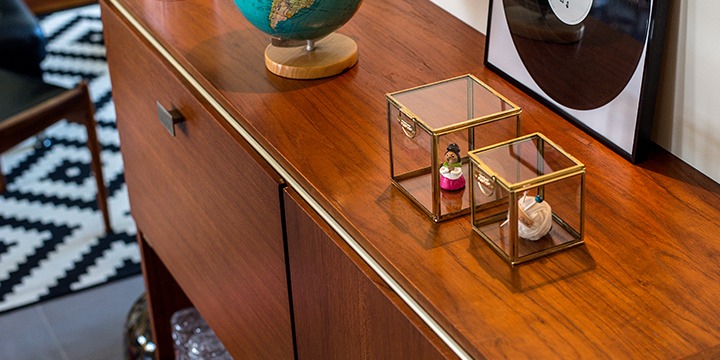 Not only do your holiday photos deserve a place in your interior, but so do your souvenirs. Take the idea described above further by putting framed posters on a shelf and surrounding them with the keepsakes that you have collected.
If you want to draw extra attention to a very small souvenir, you can put it inside a glass box. You can find them in lots of interior design stores these days. That way, your souvenir in its mini-display case will get maxi-attention!
4. Give your favourite country a place in the dictionary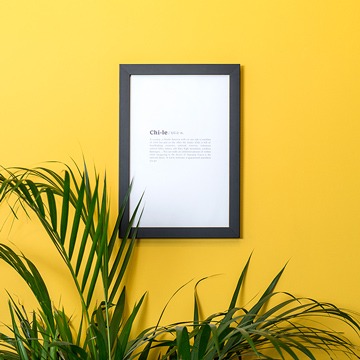 If you'd like to give the starring role in your wall decoration to the country where you 'left your heart', then print the name of the country on high-quality paper along with your own description of it. The description should focus on your own memories, experiences and favourite parts of the country and its inhabitants!
Then, lay-out the text in the style of a dictionary entry (see photo). That way, you can give visitors an instant introduction to your passion for the country.
5. Word games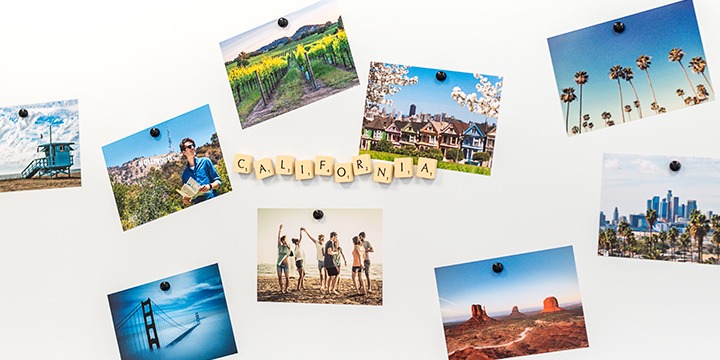 Another way of captioning your beautiful travel pictures with the location is to use scrabble letters. Take a scrabble game that you don't need anymore and pick out the required letters. Glue a tiny magnet to the back of each letter. Hang your prints on a magnet board, together with the scrabble letters (in the correct order, of course ;-)).
Tip: don't forget to hang up the souvenir magnets you collected on your trip as well!
6. Photo wall in the corner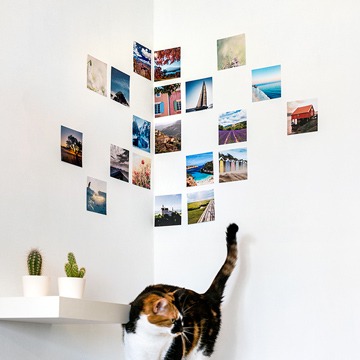 As a backpacker, you've accumulated so many great photos, it's practically impossible to make a selection for your wall decoration. But don't panic! Because here comes an idea for which you don't have to be so rigorous in your selection.
Find an empty corner in your home. Now use a whole lot of little square prints to brighten up both walls of the corner as a photo wall. Before you get started, you should outline the shape you want to cover with masking tape that you later remove.
You can group photos taken in the same location to create pleasing colour combinations. Or you can hang the prints in a particular shape such as a heart, or, if you're especially handy, in the shape of the country itself! It makes quite an eyecatcher!
7. Exotic banknotes on the wall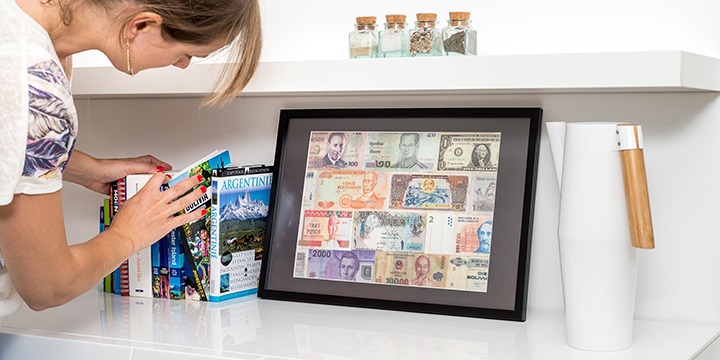 You've just got home from your trip and want to pick up some bread at the bakery, but discover you've only got foreign money in your wallet. Oops! Recognisable? Usually, you'll tuck that money away in a drawer somewhere afterwards. But why should you hide such an authentic souvenir when you could do something really fun with it?
Make a collage of the foreign banknotes on a sheet of paper. If you don't want to damage the banknotes, then use rubber cement. That way you can easily remove them later. Pop it in a frame and there you go!
Voila, with these wall decoration ideas, it's easy to keep your favourite travel stories fresh in your mind! And if you don't have the time and/or money for a new faraway journey, you'll still be able to daydream about it from the comfort of your home!
Want to give your entire wall a new look? Now you can easily make a beautiful photo wall with the new smartphoto products canvas photo gallery and multi-piece photo canvas.