Do you have a pet at home who has a special place in your heart? Then this blog post is for you! Specially for World Animal Day (4 October 2017) – but also just to celebrate the birthday of your dog, cat, rabbit, horse or hamster – I've got some fun ideas for how to give your faithful companion not just a place in your heart, but an eye-catching place in your interior as well.
Welcome message on your doormat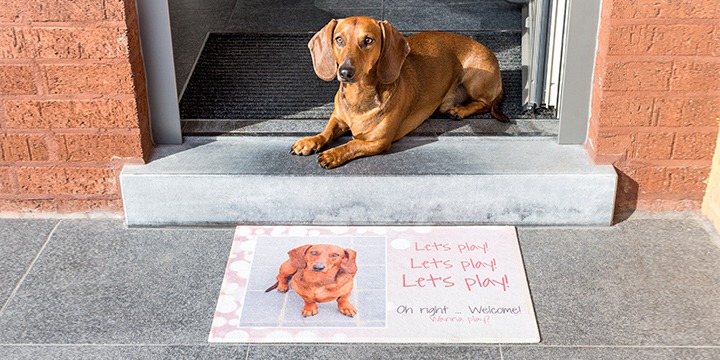 As soon as the doorbell rings, your dog sprints to the door to give your visitor a big, tailwagging welcome. But maybe your visitor doesn't always understand what your furry friend is trying to tell him or how to react.
That's why you can put a doormat out front that translates your dog's language. Or you could use the doormat as a way to subtly encourage people to wipe their feet. 😉
Here are a few examples:
Enter with clean feet
And I'll love you in a heartbeat.or
If you're afraid of me,
please don't be afraid to tell my boss
My doormat
is your doormat.
Let's play, let's play, let's play!
Oh right … Welcome!
Wanna play?
Caution: dangerous dog or cat!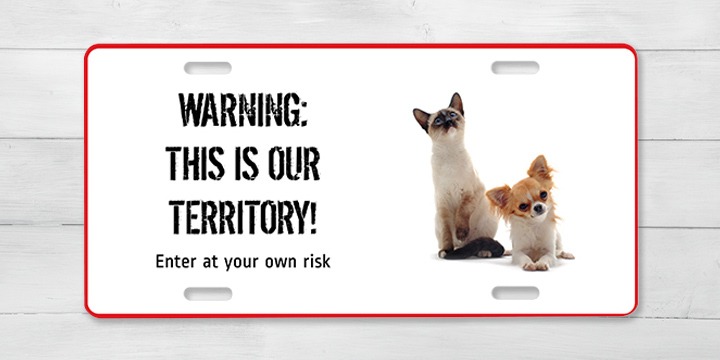 On the other hand, if you want to scare away burglars, you could display a name plate in your window. To give passers-by on the street a smile, you could opt to include an adorable photo of your cat, lapdog or hamster 🙂
Photo canvas
Family canvas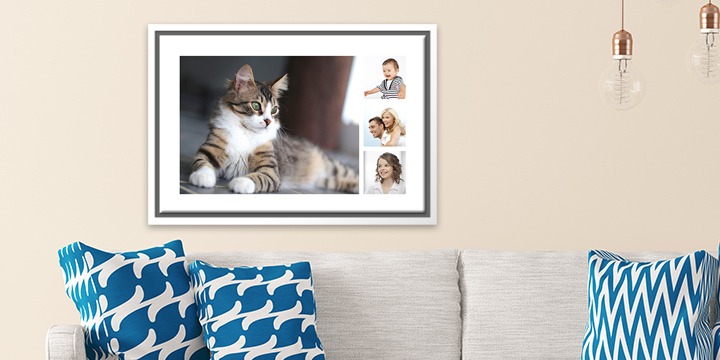 To say that your pet is an important member of the family is an understatement. He/she plays an indispensable role and should therefore be included in the family portrait, don't you think? Here's an idea for making it an original portrait: find a photo of your pet, looking in one direction, and a separate photo of each family member looking the other way. Then combine these photos on a photo canvas as shown in the example above.
Panoramic pet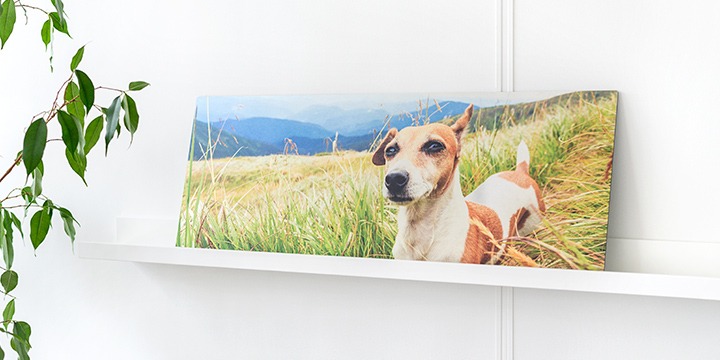 For a more understated approach, you can simply put your pet in the spotlight. In the wall decoration range from smartphoto, choose a panoramic format and include a photo of your pet in the great outdoors. Don't position your rabbit, cat or chicken directly in the centre of the photo, but a little to the left or right. The other side will then be taken up by the natural beauty that brings a breath of fresh air into your home. For an extra original effect you can order a photo on brushed metal and you're all set!
Travel bag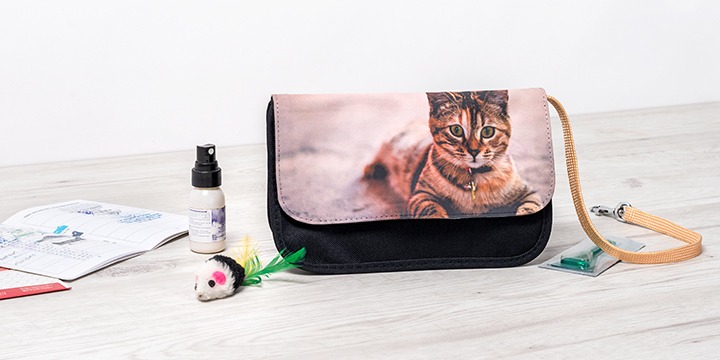 What some people would use as a makeup bag could become a travel bag for your pet. Use it as a travel first aid kit or as a handy way to collect little items for your pet such as:
Tick removal tweezers
Muzzle
Flea-control pipettes
Leash
Pet passport
Veterinarian contact info
Dog waste bags (poop bags)
Treats
Nail clippers
Pet bowl and pet tag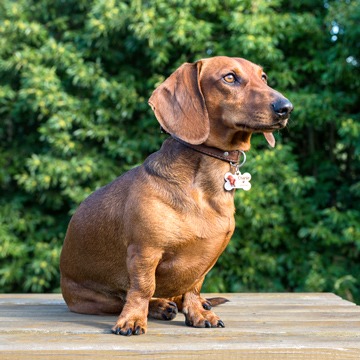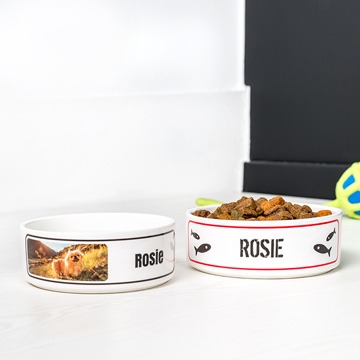 Sometimes you can just keep it simple. At smartphoto, we also have products specially created for pets. Like the pet bowl or pet tag.
Would you like some tips for cute slogans for the pet bowl? How about these?
Like a boss
Gimme more!
That's all there is?
Breakfast – lunch – diner
What about dessert?
Please fill me up
A key ring for yourself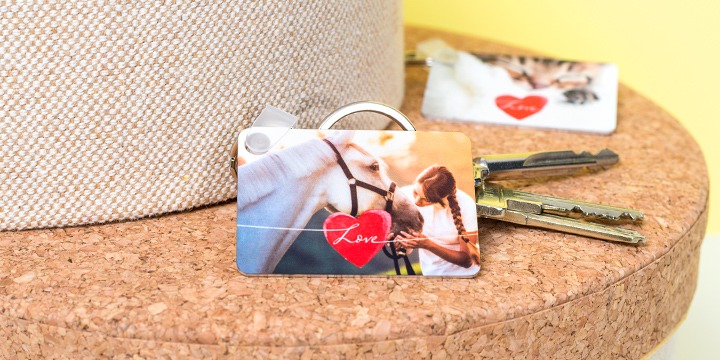 After all, your fuzzy darling holds the key to your heart like no other! So why not own a key ring of your sweetie with a heart? 🙂
Smartphoto has also recently added 3D keyrings to the range. It makes an elegant way to display the name of your beloved pet on your key ring, car mirror or backpack.
Dog's footprint
As a signature on cards…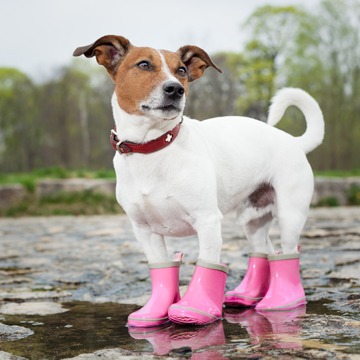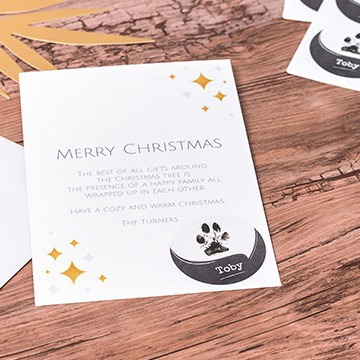 As a member of the family, your dog or kitten's footprint belongs on your greeting cards. But how can you do that without the struggle of holding your pet still while you dip his paw into a pot of ink, with a house full of black footprints afterwards?
Well, just get out your camera on a rainy day and take a photo of a muddy footprint on the floor. You can order multiple copies on stickers and use them on your Christmas cards, birth announcements or holiday postcards.
…Or on a heart pendant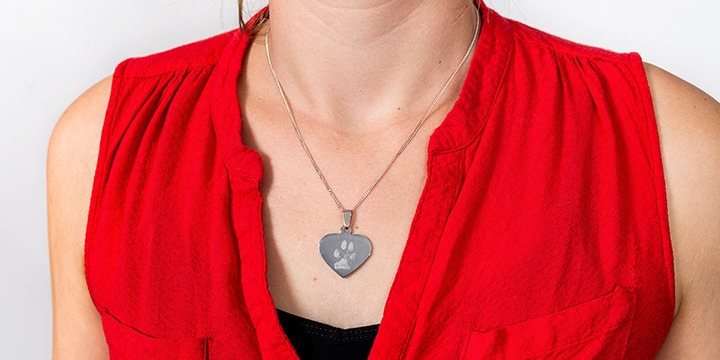 The true die hard animal lover can even take it a step or "a paw" further. Put a photo of the pawprint inside a heart pendant (choice of gold or silver) and you can always wear your best friend close to your heart.
So now you've got a list of tips for giving your dear faithful friends the recognition they deserve on World Animal Day!